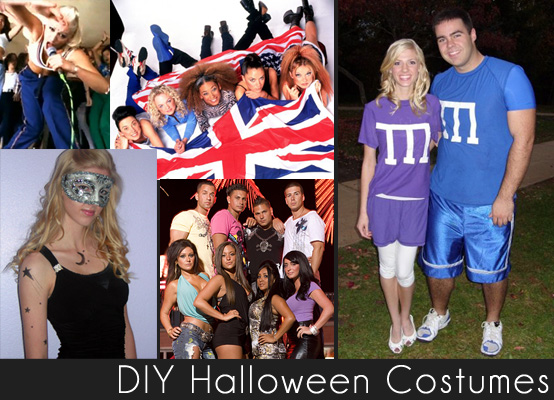 If I have to see one more "naughty nurse" or "sexy kitty" costume I will vomit pumpkin. Seriously, ladies, Halloween is the time to whip out your creativity and put it on display for everyone to see. You can finally put your Pinterest obsession and DIY skills to work.

1. Taco Bell Sauce Packet
That bright yellow, strapless swimsuit cover-up you have balled up in your dresser can be your ticket to first place in this year's costume contest. If you're looking for the perfect DIY group costume, Taco Bell sauce packets are a spicy way to go. Got a monochrome mini dress lying around and access to iron-on transfer fabric? You are good to go.
2. Flo from Progressive
Oh, so easy and oh, so recognizable, Flo from Progressive is a Halloween DIY-er's dream. What do you need? White pants, a white polo and a white apron. Slap on some blue iron-on letters and red lipstick and you are ready to worm your way in the hearts of television audiences everywhere … while explaining the value of bundling.
3. Katniss Everdeen
Need a little adventure? French braid your hair, wear a black shirt and black zip up rain jacket if you have one, and khaki or brown pants. Don't forget black or brown boots. For the pin, trace it out on a piece of paper and cut if out! You can use silver nail polish or pen to give it a metal look and pin the paper through the arrow shaft onto your shirt. For a quick bow and arrow, buy a kid one at the dollar store and spray paint it black and silver.
4. Orange is the New Black
Be on trend and comfy as Piper Chapman from "Orange is the New Black." This costume is so easy, especially if you're already blonde. Find an orange jumpsuit — we recommend hitting the scrubs section of your local box store — and some navy colored slip on shoes. Go light on the makeup and you are suddenly an inmate.
5. Be a Big Bang as Amy Farrah Fowler
Here's a way to stay warm on Halloween. Layer up as Amy Farrah Fowler from "The Big Bang Theory." What you'll need to become this hilarious neurobiologist:
A long-ish skirt
Colorful button down shirt
Equally colorful, but mismatched cardigan
Tights
Sensible shoes
Glasses and a hair clip

6 & 7: 1990s Gwen Stefani or Sporty Spice
These two are almost the same costume. You can just pick one based on hair color. Can you rock a platinum ponytail? Hello, belly-baring Gwen. Are you a brunette who isn't afraid to draw fake tattoos on yourself? You could be the next Sporty Spice.
What you need for Gwen:
Athletic pants
Wallet chain
Cutoff polo shirt
'50s-inspired ponytail and red lipstick
A bindi
What you need for Mel C:
Super sleek high ponytail
Athletic pants
Sports bra
Stick-on arm tattoos
Sneakers
8. Walk in Beauty Like the Night
This is a great standalone or half of a couple's costume. You can go as Night and Day. Night can be as simple or as dramatic as you want to make it. Dress in black and attach glow in the dark stars and a moon to your clothing or go cheap and use eye liner to paint on stars to your skin. If you want to dress it up, make it a black dress, black tights with some sparkly, black heels. Top it off with some dramatic, dark makeup.
9. "Jersey Shore" Reunion
Odds are you know someone who dressed as reality TV darling Snooki for Halloween one year. Here's a great way to recycle the costume and be part of a group costume: "Jersey Shore" 50th Reunion. Boom. I know, genius right.
First of all, pick your "Jersey Shore" cast member and find the right clothes and copious amounts of bronzer. Now it's time to "old" it up:
Use makeup to add wrinkles and age spots
Spray your hair gray or white and don't forget to pouf it
Get your hands on a wheelchair, walker or cane
10. Couples Costume: Make Way for M&Ms
Here's an easy one to throw together for you and your partner. Pick a common M&M color for shorts and a T-shirt. For the ladies, where white leggings under the shorts and white high heel shoes. Take white duct tape and make a 'M' on the front of your colored T-shirt.
You are officially ready to win the costume contest. Go forth in your pink Mustang and conquer.
Photo sources: 1 // 2 // 3 // 4 // 5 // 6: personal photo // 7 // 8 // 9: personal photo // 10