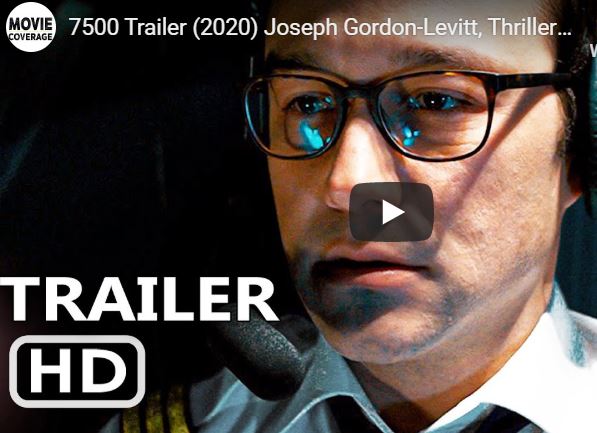 With thousands of movies available on popular streaming channels, we've rounded up a few new flicks that we wanted to share with you. Drop us a comment below to share what movies you're streaming, too!
7500
You don't have to ask my twice to watch a movie with Joseph Gordon-Levitt (JGL) in it! 7500, now streaming on Amazon Prime, tells the story of an American co-pilot (JGL) flying from Berlin to Paris and facing an attack on the plane by several terrorists. JGL's character finds himself facing an excruciating test to keep his passengers safe and land the plane safely. The action picks up early on in the film and continues to stay tense for the majority of the duration. While the movie is slightly predictable, JGL does an impressive job in his role and keeps us on our toes in this new thriller.
SCOOB!
I always loved Scooby-Doo cartoons and movies going up and am still a huge fan. The latest flick in the franchise, SCOOB!, doesn't disappoint Scooby fans. Enjoy the mysteries and fun once again with the lovable characters. (Fun for all ages!)
Selah and the Spades
Set in an elite Pennsylvania boarding school, this movie shares the story of Selah Summers (Lovie Simone) as she runs the most dominant groups on campus, the Spades. But with graduating on Selah's mind and tensions facing the other cliques on campus, she takes on a protégée to take her place  for the next school year. Selah's fears turn sinister as she grapples with losing the control by which she defines herself. In her feature debut, writer/director Tayarisha Poe immerses us in a heightened depiction of teenage politics. The movie takes viewers on a journey showing how a queen bee's status brings serious consequences and humbling lessons. This movie is available now on Amazon Prime.
Blow the Man Down
If you're looking for a flick combining dark comedy and mystery, Blow the Man Down will keep you entertained. As the two main characters, sisters Mary Beth and Priscilla Connolly, grieve the loss of their mother, they find themselves covering up a gruesome run-in with a dangerous man. In order to keep the secret, the sisters must discover even more dark secrets from their hometown. Available now on Amazon Prime.
Athlete A
Recently debuted on Netflix, "Athlete A" is a documentary focusing on the gymnasts who survived USA Gymnastics doctor Larry Nassar's abuse and the reporters who exposed the organization's toxic culture. The compelling story lets viewers to hear first hand from the victims and to feel their experience and stories of courage.