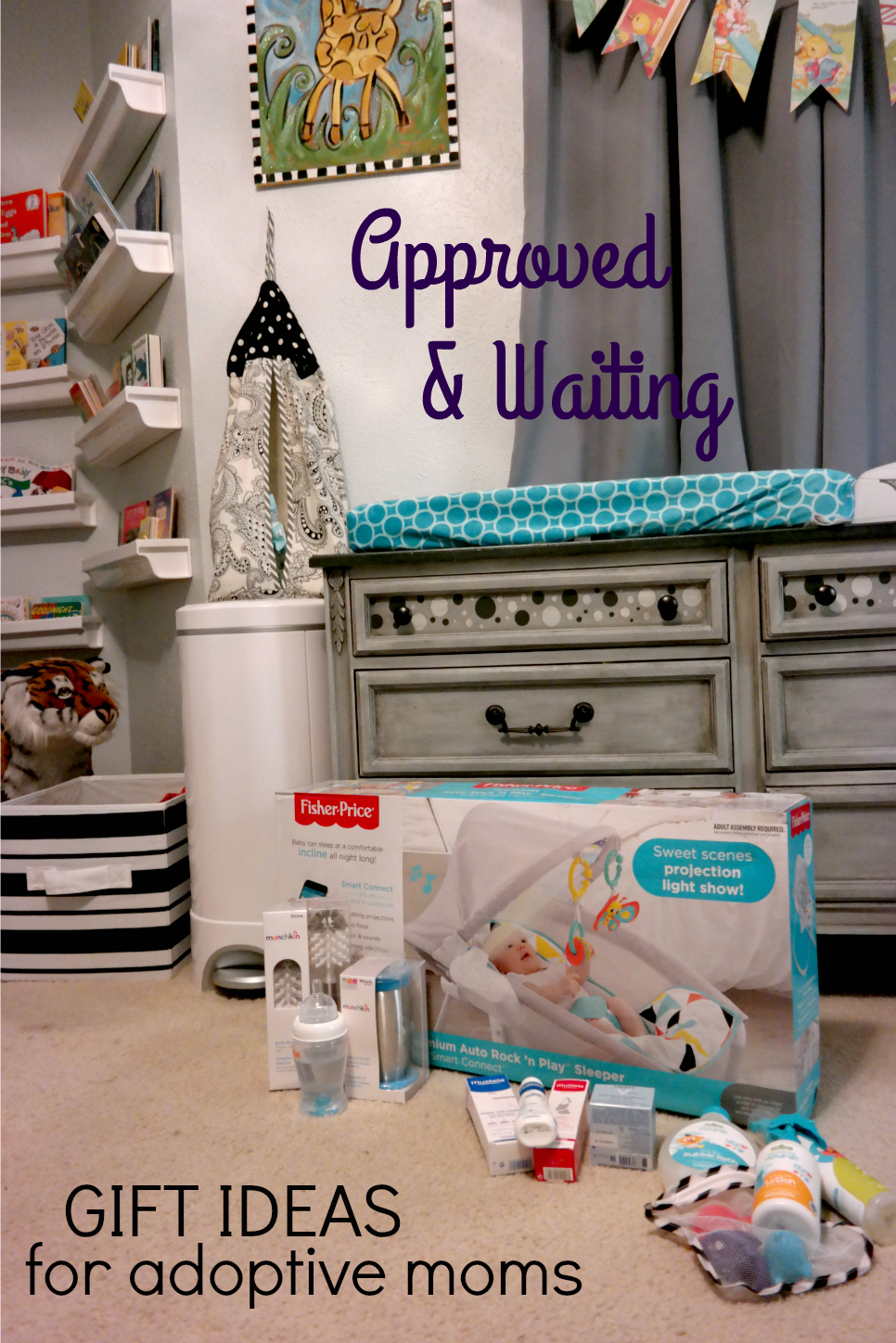 If you are lucky enough to know someone who is just beginning, or is somewhere further along in their journey of infant adoption you're probably wondering about gift giving. While we were officially approved and waiting (16 months) we had some people who were eager to help fill up the nursery and others who wanted to wait to know the baby's gender. And, while I appreciated the fun gender specific gifts after our little dude arrived, it was a big relief to have some of the basics covered as the weeks were ticking by.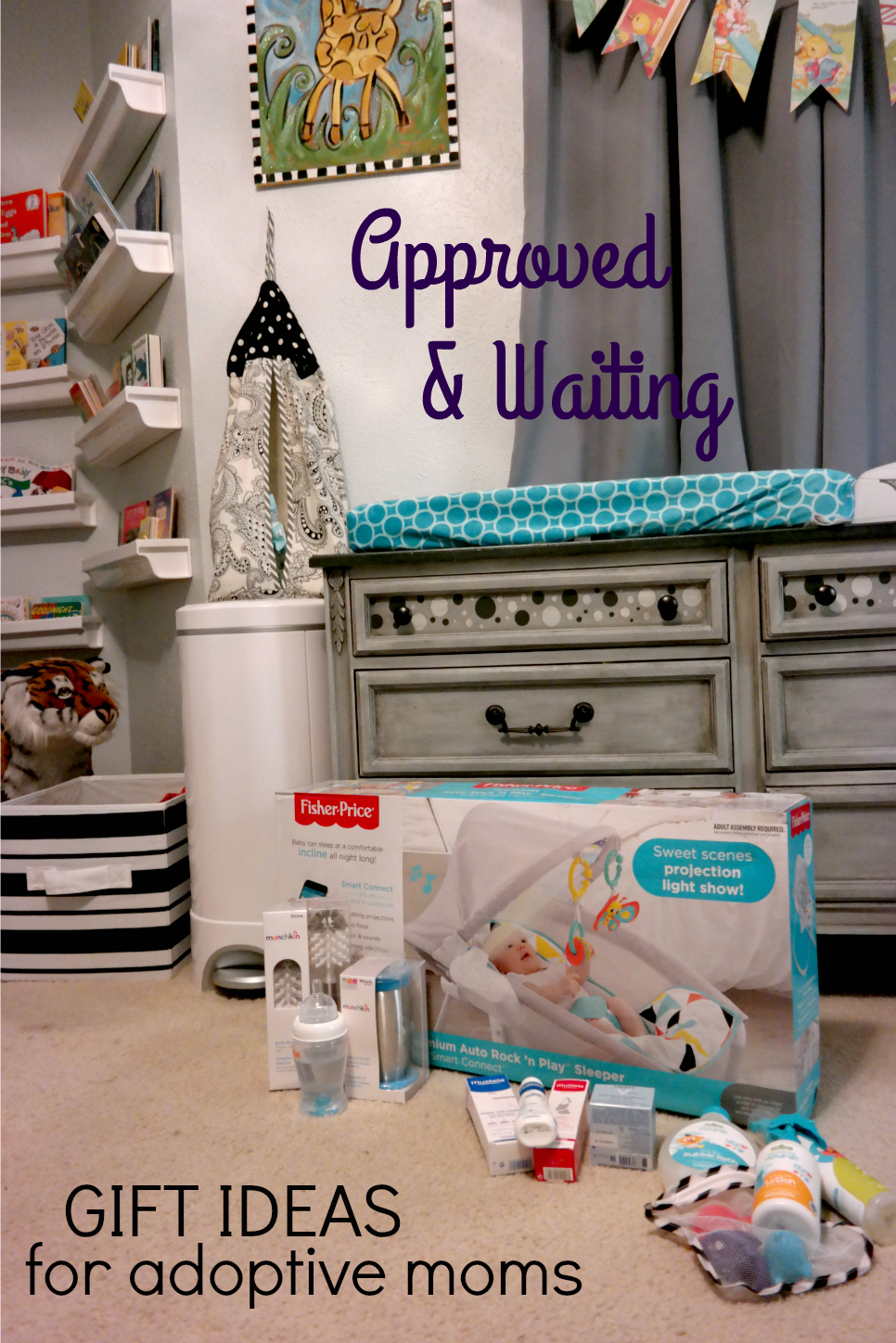 Here are some of the essentials for adoptive moms-to-be and their babies:
Diaper Pail & Diapers
Bet you can guess the most used item in the first two week's of a newborn's life? Yep, diapers. We used an app in the early days to keep track of how many diapers (and bottles) we went through. For fear of scaring moms-to-be I'll just round up and say ALL the diapers. That's how many we used! Admittedly we did not have a serious diaper disposal area right away. That was one of the first things we had to remedy. We've recently switched again to the Munchkin: STEP Diaper Pail. One of their main selling points is that it's "best-in-class odor control" and that is not an exaggeration. Our nursery, while visually Pinterestable, was smelling like stale diapers far too often before the Munchkin STEP. And a fun bonus I learned, For every single diaper pail sold, Munchkin will plant a tree, as they are on a mission to reduce gassy emissions both inside and outside the nursery. The diaper pail, along with bag refills are available at Target.
A package of diapers, in varying sizes, is also a much appreciated gift. Some things to note: give them a gift receipt and buy varying sizes. Our baby was in 90th percentile for height and weight, so he never wore size Newborn.
Body & Bath-time goodies
I've had sooo many firsts as a new mom, but first bath-time is still one of my favorite moments. I'm not great about knowing the ingredients in the shampoo I use on myself, but I started paying attention to those details when looking for baby soaps and lotions. The Village Company® uses extensive testing to ensure their line of Sesame Street® Bath Products are gentle enough for babies' delicate skin. The full line of their products are free of dyes and parabens. As we've moved into the toddler stage, bath time has become much more active. We find that a product that easy to use all over his hair and body is much preferred. Tip, Tummy & Toe 2-in-1 was voted "Best Foamer" by parents.com and has a sleek and easy-to-use bottle design. The baby, of course, is most interested in the bright packaging. You can save $4 when you buy two of their products.
As much as our baby loves bath time, with bubbles, getting lotion on his skin is an amusing / wiggly adventure. It didn't occur to me pre-baby that a spray lotion would even exist in kiddo options. Sesame Street Spray Me Lotion unique trigger sprayer that makes that process quicker. I like that it is 100% naturally derived from plant-based ingredients. You can save $4 when you buy two of their products.
One key lesson I learned from experienced parents is that there are some items you won't know you need until a very odd time, usually the middle of the night, and you will be so frustrated you didn't think ahead. One of those key items is Diaper Rash cream. I don't remember when our baby got his first diaper rash but I do remember being thankful for already having several tubes of diaper rash cream on hand. Diaper Rash Cream 123 by Mustela has Zinc Oxide specially formulated to prevent and tackle irritation and redness triggers at their source.
With over 60 years creating products, Mustela has a great selection of products for babies and moms. For your friends who may be currently pregnant they have a line of pregnancy skincare and stretch mark cream.
There are over 40 baby skin related products on Mustela's website. The Hydra Bebe Body Lotion is a crowd pleaser over here. Use code Babblebox17 for 15% Off Sitewide Valid through 2/11/17.
Rock N' Play
The Fisher Price Rock N' Play was one of the first big ticket items gifted to us by my dear friend. Her baby was only a few months old when she had one shipped to us. We got a LOT of mileage out of ours over the first few months. Fisher Price's newest model, the Premium Auto Rock 'n Play™ Sleeper connects to mom's mobile device so she can control music and movement. It's available on Fisher Price's website as well as several baby stores.
Bottles & Accessories
Researching bottles was an overwhelming experience as an expectant-mom. I knew we'd be doing formula and thus needing MANY many bottles, but I wasn't sure where to start. I had a friend recommend starting small and buying one or two of a brand rather than the starter sets that way you could see how the baby likes that particular bottle, nipple, and flow. We've tried several brands in our baby's 9 months. I'd heard good things about the Munchkin LATCH bottle, but only recently tried it for ourselves. The anti-colic valve, located at the bottom of the bottle, prevents air bubbles in the milk to reduce gas and fussiness. From the tiny one-week old's to on-the-go crawling babies there's nothing that changes that baby's mood quite like an uncomfortable air bubble. I like that the Munchkin LATCH has various stage options for the nipples. We are now using Stage 3.
We started trying sippy cups around the 6 month mark. That was when our Pediatrician gave us clearance to try plain water in small quantities. The first sippy cup we used was the LATCH Transition Cup. That one is still in our rotation, we also love the Click Lock™ Weighted Flexi-Straw Cup.
The Miracle® Stainless Steel 360° Sippy Cup is our newest sippy cup. I most appreciate that the insulation and vacuum seal can keep the water cool up to 15 hours. Speaking from experience, there are bottles and sippy cups that can easily drip spill water or formula, this one automatically seals when child stops drinking to completely eliminate spills.
Aside from our diaper pail, the most used baby item in the house is by far the bottle brush. I find there are two types of bottle washing parents, those that wash bottles all throughout the day, as the baby uses them, or people like us… who end up with 87 (slight exaggeration) bottles sitting at the edge of the sink at the end of every day. First rule of bottle washing, have a dedicated brush that is not used on other items. Second rule, make sure that brush stays clean, dry, and away from kitchen germs. Munchkin's Shine Stainless Steel Bottle Brush has a replaceable head so you can change it out when you feel like it's been used on one too many bottles. The nylon bristles are scratch-free and reduce splash-back.
Goodies for Mom
Most parents don't make taking care of themselves a priority, especially in the early days. I've seen good baskets full of gifts just for mom go over very well for adoptive moms. You could include skincare, socks, candy (hey, she doesn't have to lose baby weight), giftcards for coffee or food delivery. Vichy has offered our readers 20% off + free U.S. ground shipping on all orders. *Must enter promotion code: BABBLE at checkout. Offer valid through 11:59pm PST, 03/31/2016. Offer will automatically apply. This promo cannot be combined with other discounts or gift sets.
Share your time: to come wash bottles, do laundry, make dinner, help with their pet, or watch their house if they need to travel to bring baby home.
Just because adoptive moms don't carry their baby for 9 months in their tummy doesn't mean they can't use help throughout the waiting process. Waiting can have its overwhelming moments as well, so anything that you can to help along the way will definitely be appreciated!