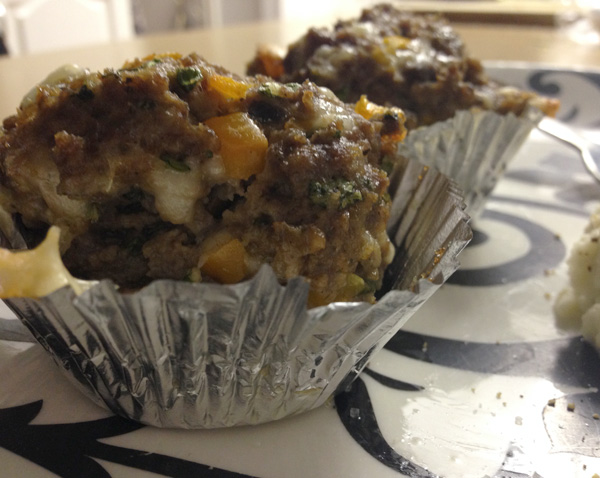 -This is a sponsored story in partnership with General Mills via Federated Media.-
I feel like there are two types of cooks: must follow-a-recipe line by line type and the spontaneous, can't replicate what I did, hope this turns out okay cook. I'm generally the recipe following type, particularly when it comes to measurements. While my husband leans much more to the spontaneous side, he will follow steps (with guesstimated-measurements) at least for the first try at a new dish. When I found out I'd have the opportunity to partner with Progresso to try out their Recipe Starters , I knew they'd be a great compliment to my need-a-plan in the kitchen brain. The day my samples arrived I read through all of their marketing material, with dish ideas, cover-to-cover. I picked out a recipe from their book and made a grocery list.
The plan was to make muffin-tin meatloaf. I had read that making meatloaf in small portion size made them more freezer-friendly, as well as portable. Over the weekend we went to the store and bought our usual weekly groceries and the few additions for our meatloaf. I don't recall what all we had going on that week, but I remember it being hectic. We decided to try out the Progresso Recipe Starters dish one night after work. The original plan was to make Mushroom and Kale meatloaf with the Creamy Portabella Mushroom Progresso Recipe Starter. But, as we started pulling the recipe items from the fridge I noticed we had several vegetables left from other meals – that looked like they needed to cooked sooner. So in that moment, my list-following kitchen persona took a break while I pulled out several random things from the fridge. Here's what we started with:
I even ventured to our front yard to clip some Rosemary to add in!
This meal is pretty easy to make, just chop up any vegetables and spices you want to include. Add them to a bowl with 1/2 cup of bread crumbs, cheese, and the Progresso Recipe Starter of your choice, then mix it all up. Some people opt to use their hands, but I'm not a fan of raw meat so I used a fork. While we were doing all the mixing our oven was pre-heating to 350°F.
I also recall a few "oh hey, we have a little bit of this left let's add that to it" moments. I believe we decided to add in mushroom, onion and garlic. Which is why I decided to name this recipe "Clean Out Your Fridge" meatloaf. Speaking of fridge, some meatloaf recipes call for 1 egg. Turns out we didn't have one, which didn't end up being an issue since we added a bit more cheese and counted on the creaminess in the Portabello Cream for texture. Now you are ready for your muffin tin. I highly recommend adding a liner, especially if you plan on having any leftovers. We used these foil cupcake liners.
The quantities we used ended up filling 9 slots. The goal is to get fill up each slot to the top, trying to keep your portion sizes similar.
Now it's cooking time! Bake for about 25 minutes (at 350°F), or until your thermometer inserted in the center of loaves reads 160°F.
I am happy to report the end result turned out great! In fact, we've already repeated the dish a second time with a different Progresso Recipe Starters base (Fire-Roasted Tomato) and other random veggies. I did however, break a cardinal rule of food blogging – I did not take photos of the second round where we added zucchini, kale, cheese, the Progresso Recipe Starters, with ground beef. The Progresso Recipe Starters gave us a great base of flavors (and texture) to give us the freedom to add several vegetables in with the ground beef. Rory has been eating low-carb for a while, so we try to keep the dishes we make at home as carb-less as possible. This meal overall was very low-carb friendly. Other than a small amount of breadcrumbs the meatloaf was primarily meat, cheese and veggies. We served it with mashed cauliflower to make it feel like a healthier "meat and potatoes" meal. I'd recommend this fun, "Clean Out Your Fridge Muffin-Tin Meatloaf" adventure at least once in your household. I imagine that those of you with kiddos could also get them involved. I think I'll use the Creamy Three Cheese Progresso Recipe Starts packet for a carbotarian pasta dish on Rory's next cheat day (which often turns into cheat weekends). [amd-zlrecipe-recipe:3]
Compensation was provided by General Mills via Federated Media.  The opinions expressed herein are those of the author and are not indicative of the opinions or positions of General Mills. For more easy dinner ideas, visit http://progresso.com/Products/Recipe-Starters