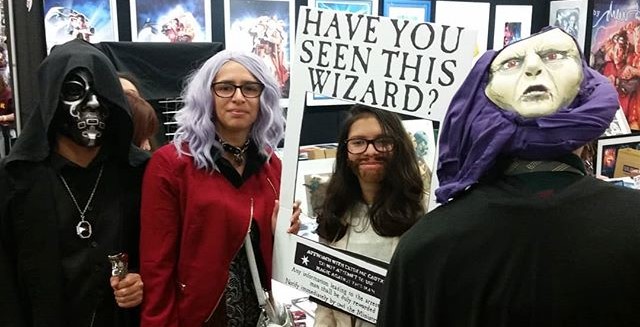 I'm a comic-con junkie, so you know you'll find me at Dallas Fan Days again this year – it's coming up this weekend on October 19-21 and I can't wait!
Dallas Fan Days has another fun lineup of celebrities, including Jennifer Morrison of Once Upon a Time, Karl Urban and John De Lancie from Star Trek, Power Rangers' Jason David Frank, and your favorite 90's Hercules, Kevin Sorbo. Celebrity guests will participate in panels and Q&A sessions, plus have photo and autograph opportunities throughout the weekend.
New at Fan Days this year are Harry Potter themed escape rooms, which sound like a blast – you can purchase tickets online to make your Fan Days experience a little more magical. If you're looking for other activities, Dallas Fan Days has a board game library, card game tournaments, and geek speed dating. You'll find all the geeky merch your heart desires on the convention floor, and you can commission your own original work of art from one of the professionals down artist alley.
But the thing that gets me out to every convention is the cosplay! I love dressing up and I love seeing all the creative costumes that other fans have made. This year, Fan Days has tons of cosplay meetups, the costume red carpet, the costume contest, and even a cosplay karaoke party. Costumes and belting out karaoke hits is like my perfect recipe for a night out.
I've gone to past conventions as a Tyrannosaurus rex, Melisandre from Game of Thrones, Tom Servo from Mystery Science Theatre 3000, Idris/the TARDIS from Doctor Who, Joan from Mad Men, Professor Quirrell and Peter Pettigrew from Harry Potter, and as the Ruined Fresco Jesus meme from 2012. What should I dress up as this year?
Dallas Fan Days is happening at the Irving Convention Center this weekend, Friday, October 19 through Sunday, October 21. Tickets start at $20 and you can get them on the Dallas Fan Days site.