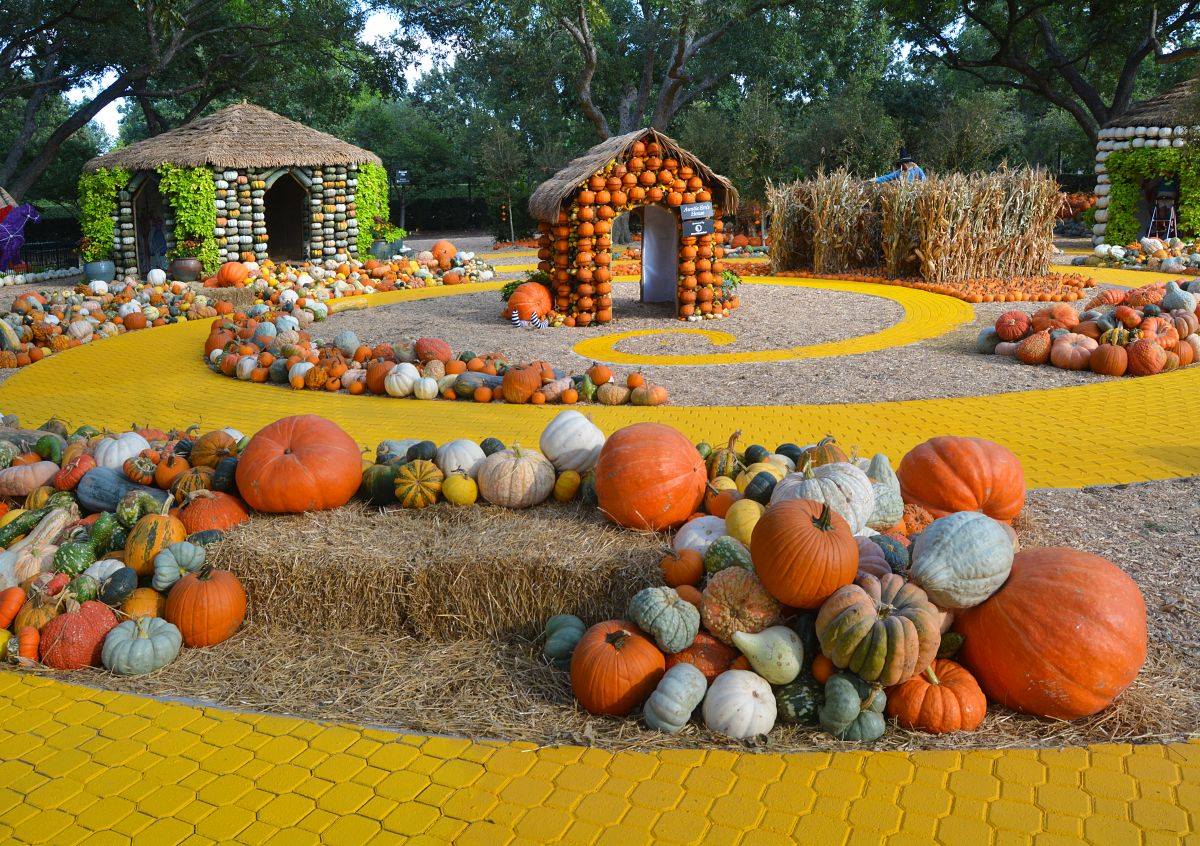 Hello, fall! Bust out your cozy coats and boots as you head to these North Texas attractions s this season. Have an event to add to our roundup? Email me at PR@genpink.com.
Autumn at the Arboretum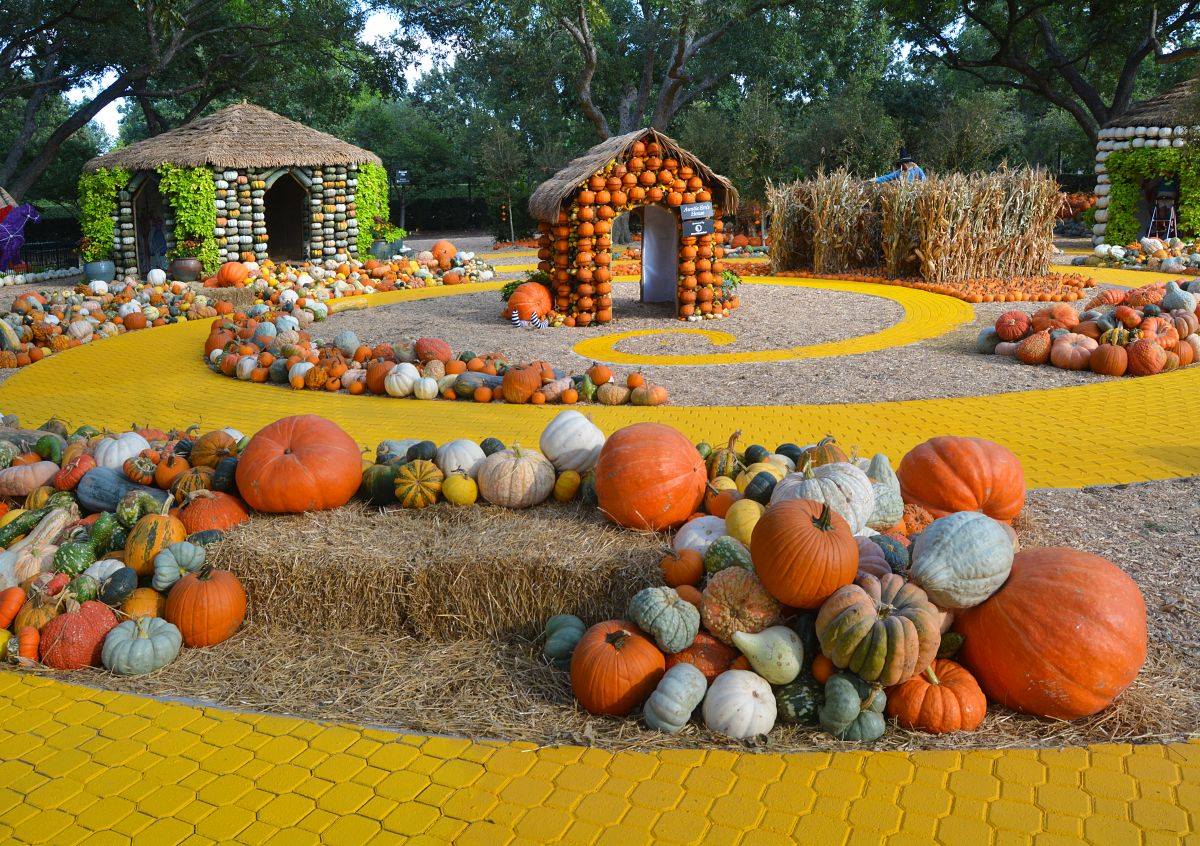 Credit: www.facebook.com/dallasarboretum
Check out Autumn at the Arboretum this season for family-friendly activities, and the new "Wonderful Wizard of Oz"-inspired Pumpkin Village. The village features more than 50 varieties of amazing pumpkins, squash and gourds — and it includes 90,000+ pumpkins and 150,000+ plants! The breathtaking exhibit is on display now through November 22 at the Dallas Arboretum.
General admission prices range from $10-15. Click here to buy tickets in advance.
Fairway to Wellness Charity Golf Tourney, Nov. 2
Credit: www.cowboysgolfclub.com
Hotels.com will host its sixth annual Fairway to Wellness Charity Golf Tournament taking place on Thursday, Nov. 2. The sponsored tournament will benefit St. Jude Children's Research Hospital, American Cancer Society and the American Diabetes Association and will take place at the Cowboys Golf Club in Grapevine.
The annual tournament has donated more than $725,000 over the last five years, including a record-breaking $255,000 in charitable contributions from last year's event. All funds donated stay with local beneficiary charities to directly support the Dallas-Fort Worth area.
Celeb sighting: Larry Brown, Jr., former NFL cornerback and MVP of Super Bowl XXX  is scheduled to attend.
To support the cause, please visit www.Fairway2Wellness.com,
Three new exhibitions at Fort Works Art 
Credit: Fort Works Art
DUETS 2.0, NEW POP, and REVERIE opens Nov. 3 at Fort Works Art with an opening reception from 6-9 p.m. These three exhibitions explore a comparison of local and national artists, pop culture, and dream-like oil paintings. All displays are available at Fort Works Art through December 30.
About the exhibitions:
DUETS 2.0 is the reemergence of last years hit show, DUETS: A Comparison Of Realities, and pairs 12 local and national artists whose mediums, styles, and/or techniques have similarities.
Featured in the upper gallery is Internationally-acclaimed arts medium, Tax Collection's exhibition New Pop. The sociopolitical exploration will highlight pop cultural trends through vibrant, sometimes controversial works with artists from all over the world. Tax Collection shows can generally only be seen in New York and are making their debut in the Texas art scene at Fort Works Art.
North Texas artist Jana Renee's presents her first solo show Reverie at Fort Works Art. Her dreamy, pop-of-color works will take you to a fareaway land, away from the stress of everyday life.
Fort Works Art is located at 2100 Montgomery St, Fort Worth, TX 76107.
Sheed Persian Film Festival at Angelika Dallas, 

Nov. 10-12
Sara & Ayda (Maziar Miri's acclaimed 2017 film) Credit: facebook.com/SHEEDPERSIANFILM
Sheed is an independent festival organized with the purpose of introducing and promoting the Persian-speaking cinema among different nationalities and presenting an appropriate picture of Iran and other Persian-speaking countries' rich cinema. "Sheed" is a Persian word meaning illumination, and the Sheed Festival aims to be a light illuminating the lesser-known cinema of the Persian-speaking countries to a diverse audience.
Persian cinema, and especially Iranian cinema, has been witnessing the emergence of several young and admirably ambitious directors during the past decade. A mixture of young and experienced directors and a different look at the basic elements of cinema has made Iranian movies have a brilliant performance on the international scene.
Organized by artistic director Shahram Mokri, festival director Arameh Etemadi and festival founder Ehsan Matoori, Sheed will include an acting workshop, six films for public screening and a competitive section featuring nine acclaimed Persian movies, a memorial for the deceased Iranian director Abbas Kiarostami.
Click here for tickets. $13/adults, $10 seniors and students)
Lone Star Film Festival
Time to bust your cowboy boots for this one! The Lone Star Film Festival opens Nov. 8 with a ball, and the flicks start playing Nov. 9. Hosted at Fort Worth's Sundance Square, the festival will feature film screenings, a film competition, panel discussions, guest speakers, awards and parties.
One of the movies to see is Chasing the Blues, starring Grant Rosenmeyer (The Royal Tenenbaums) and Ronald L. Conner, and featuring cameos by comedic legends Jon Lovitz and Steve Guttenberg. The heartfelt and hilarious story of two rival record collectors on the decades-long hunt for a vintage – and possibly cursed – album proves that the road is long…and definitely twisted! The film will be shown on Nov. 11 at 1:30 p.m. at AMC Palace Theater.
Tickets are $10 and are available at the door, and festival passes are available online.
Martin Lawrence Galleries presents Douglas Hofmann's paintings
Credit: www.martinlawrence.com
Join Martin Lawrence Galleries at Galleria Dallas for an exceptional exhibition by master artist Douglas Hofmann showcasing breathtaking new original works. The paintings of Douglas Hofmann are critically acclaimed for their glowing surfaces, detail and softly lighted forms. Hofmann expertly combines his own methods of painting with Old Master techniques.
Opening reception & Meet the Artist
Thursday, Nov. 9, 2017 from 6 – 8 p.m.
RSVP by calling: (972) 546-2988
Martin Lawrence Galleries is located on Level 1 of Galleria Dallas (13350 Dallas Parkway).
Irving Berlin's "White Christmas" Comes to North Texas
Dallas Summer Musicals and Performing Arts Fort Worth will co-present the North Texas return of the family holiday favorite IRVING BERLIN'S WHITE CHRISTMAS. The critically-acclaimed musical will play at Bass Performance Hall in Fort Worth November 14-19, 2017. This beloved holiday classic will roll back into Dallas, where it will play at the Music Hall at Fair Park December 5-10, 2017.
IRVING BERLIN'S WHITE CHRISTMAS tells the story of a song-and-dance team putting on a show in a magical Vermont inn and falling for a stunning sister act in the process. Full of dancing, laughter and some of the greatest songs ever written! Give everyone the gift they're dreaming of with this merry and bright holiday musical.
Single tickets for the Fort Worth engagement start at $44 (pricing subject to change) and are now on sale. To charge tickets by phone, call 817-212-4280 in Fort Worth; 1-877-212-4280(toll free) outside Fort Worth; or order online at www.basshall.com. Tickets are also available at the Bass Performance Hall ticket office at 525 Commerce Street. For group sales, call 817-212-4248.
Single tickets for the Dallas engagement, starting at $20 (pricing subject to change) are now on sale at DallasSummerMusicals.org or by phone at 1-800-745-3000. Single tickets can also be purchased in person at the Music Hall at Fair Park box office Monday – Friday from 10 a.m. to 6 p.m. and Saturday from 10 a.m. to 4 p.m.
'Twas the Night Before Christmas ICE! exhibit at the Gaylord 
The Gaylord Texan Resort brings back its popular ICE! exhibit this month in Grapevine. ICE! is a walk through holiday attraction kept at a chilly 9 degrees featuring two million pounds of hand?carved ice sculptures and five ice slides. See Ma in her kerchief, Pa in his cap and more as the classic holiday poem, 'Twas the Night Before Christmas comes to life. The exhibit lasts through the New Year. Click here to learn how you can get discounted tickets to ICE! before the Thanksgiving holiday. You can also upgrade your ticket and add a few activities during your experience, such as gingerbread decorating and snow tubing.