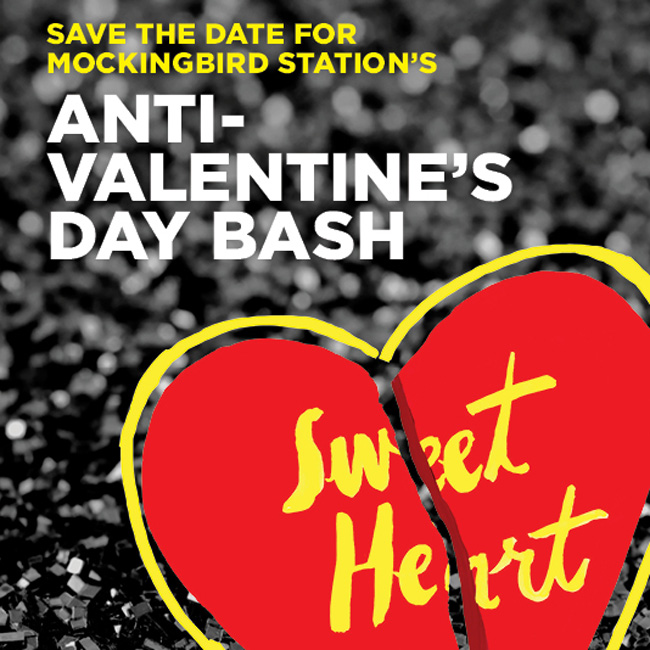 Our friends at Mockingbird Station are gearing up for a red hot month! Check out the list of events below, and be sure to catch your GenPink girls (Elysa and me) co-hosting the Anti-Valentine's Day Bash on Feb. 13!
Valentine's Day Party At Lavo Collections
Feb. 8, 4 to 8 p.m., Suite 122
Celebrate the most romantic day of the year with a new dress from Lavo Collections! The boutique will throw a Valentine's Day Party on Feb. 8 featuring complimentary champagne and refreshments and 40 percent off store-wide. Guests can also enter a raffle for a chance to win a gift basket.
Valentine's Day Cocktail Class At The People's Last Stand
Feb. 12, 8 p.m., Suite 210
Grab that special someone or come with your favorite pals and get ready to sip the night away with a unique Valentine's Day experience at The People's Last Stand. The bar & bistro is shaking (not stirring) up the day of love by hosting its second Valentine's Day Craft Cocktail Class. Couples and singles can learn the art and craft behind some of People's favorite drinks. Ticket details to come.
Anti-Valentine's Day Bash at The People's Last Stand
Feb. 13, 7 to 10 p.m., Suite 210
Join hosts Bella Ramos, of Dateless In Dallas, and Elysa Ellis and Nelli Tokleh, of GenPink, for a bloody great evening of beer drinking, burger eating and blues singing that Cupid wouldn't approve of. Ditch that annoying cherub and enjoy live blues music by Freddie Jones, buckets of beer and gourmet beef sliders by Chef Ben Leath, pictures with naughty Cupid, complimentary temporary tattoo art, heart-shaped piñata bashing, Trailercakes cupcakes, fabulous gift bags and more! Tickets are $15 per person and include a bucket of three beers, kobe beef sliders, a gift bag and all the candy you can eat. A portion of the proceeds will go to the American Heart Association.
Valentine's Day Dinner Special At Urban Taco
Feb. 14, Various times, Suite 125
Urban Taco is making Valentine's Day extra special with a $20 per person prix fixe dinner. Treat your loved one to a chips and salsa trio, taqueria plate, churrnut and a prickly pear frozen margarita. Seating is limited, so secure yours today by calling214-823-4723.
Yoga At The Station
Feb. 22, 10 a.m. to noon, The Lofts condo 711
Mockingbird Station and Relativity Outdoors will be hosting a free yoga class on Nov. 16. Participants will be treated to complimentary water, healthy food, and ample opportunity to socialize and make friends. Get ready to sweat, stretch, and unwind. Find your inner peace and join us for an invigorating morning of yoga and more with the Relativity Outdoors team. More details to come.
Put A Little Spring In Your Step At Francesca's Collections
Feb. 23, 6 to 8 p.m., Suite 105
Look ahead to spring and join Francesca's Collections for a special evening of refreshments and 20 percent off your entire purchase. Guests will also have the opportunity to enter their emails in a raffle for a fabulous Francesca's Collections handbag.
Shop For A Cause At Lavo Collections
Ongoing through Feb. 17, Suite 122
Today through February 17, if you spend $50 or more at Lavo Collections, you will receive a raffle ticket. Customers have the choice of donating it to one of the following charities: Snowball Express, North Texas Food Bank, and John S. Bradfiled Elementary school. After February 17, Lavo Collections will tally up the totals of each box and donate 5% of the total to the charity with the most raffle tickets. It's the easiest way to contribute to a charity while looking cute!