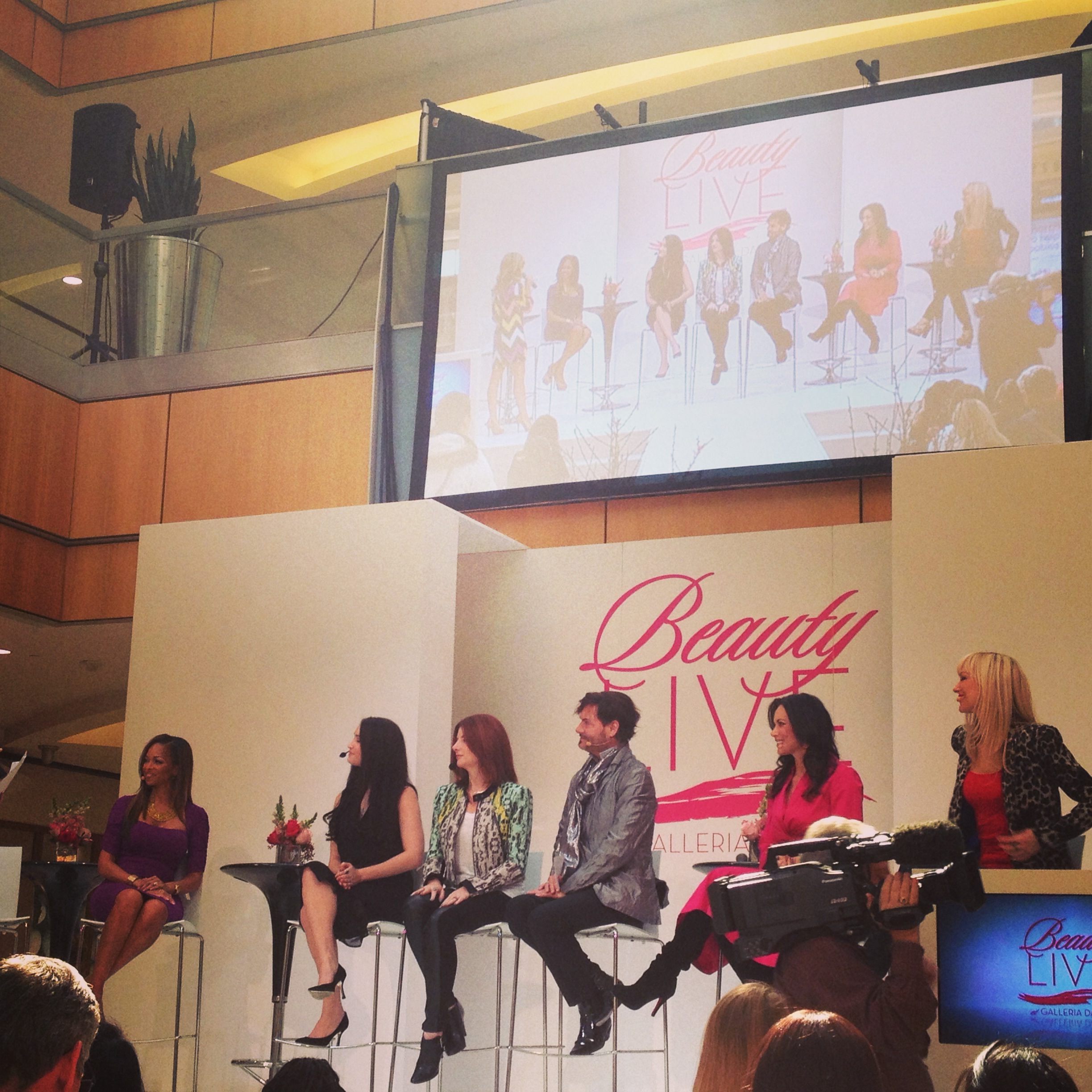 The Galleria Dallas recently hosted its fifth annual Beauty Live event, an action-packed weekend celebrating the beauty in women and men. The event showcased upcoming beauty trends with many activities. I visited the chic shopping mall to check out the beauty panels, demonstrations, products and giveaways that weekend with my girl friends.
Beauty Panel
The event kicked off on Saturday morning with the Beauty Live Expert Panel featuring local celebs and media including Holly Quartaro, Pat Smith, Cynthia Smoot, Steve Kemble, Raya Ramsey, LeeAnne Locken and Joanna Hathcock. As Holly hosted the panel, each panelist provided beauty tips and shared their favorite products with the audience. We captured a few of the favorite mentions, below.
Products They Can't Live Without:
Joanna: cream blush, under eye concealer
Pat: products from Noxima
Raya: brow gel
Cynthia: products from Makeup Forever to get that HD look
Steve: products from the Jack Black collection for men and The Art of Shaving
LeeAnne: a natural blush
Upcoming Trends
Raya: nude manicure
Pat: colorful clothes
Cynthia: fun nail polish colors
Joanna: colorful lipstick shades
Steven and LeeAnne: bold, natural eyebrows
Color of the Season
The panel agreed the color to look for this spring is (drum roll, please) emerald green. This elegant hue can be found at your local clothing and makeup stores very soon!
Beauty Starts from Within
With all these fun activities and products everywhere, we don't want to forget that beauty first comes from within yourself. The team suggested that everyone should drink lots of water every day, engage in fitness activities, pay close attention to your skincare and have a positive attitude!
Style Tip from the Pros
Raya mentioned a good style tip for girls and guys: If you're visiting with a beauty expert, use your phone (or have a friend help you out) to take a step-by-step video of the stylist working on your hair, skin, nails, or makeup. When you get home you can reference back to their techniques to recreate the same style.
The event continued Sunday with the Mac Cosmetics demo, Steve Kemble's Man-Over (a makeover for men) and Joanna Hathcock's beauty picks presentation.
I hopped around the first level of the Galleria and visited the beauty booths. First, I stopped by Toni & Guy for a fringe trim. Next, I got my leather business bag shined and touched up. I also stopped by Bath & Body Works, Sephora, and the Clinique stations for skin and makeup advice and product samples. Lastly, I checked out the colorful cosmetic displays at MAC and chatted with my friend who is a makeup artist there.
(Disclaimer- I was provided with a complimentary media pass to attend Beauty Live. I was not compensated for this review, and all opinions are my own. I'd like to thank for the stores at the Galleria for providing attendees with lots of beauty swag and samples and the Galleria team for distributing the media pass.)