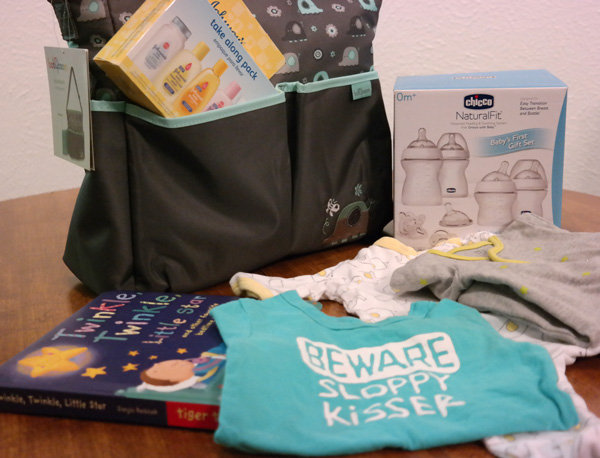 I participated in an Influencer Activation on behalf of Influence Central for Chicco. I received product samples to facilitate my review and a promotional item to thank me for my participation.
According to the Love Languages book, gift-giving is one of the ways I show love. Combine that with the fact that me buying anything for babies pretty much results in a "but looooook how cute this is?!" and you have a formula for me buying all tutus and no practical gifts for friends who are expecting or adopting.
Funny enough, it wasn't until we registered for our wedding that I realized *just* how important it is to buy gifts for people that they actually need. Seems obvious? But it's a struggle for someone who is easily distracted by cuteness factor. Consequently, I've made it a personal rule that at least part of all wedding/baby gifts from us will be practical, or something directly off of their registry. For the other items, I do love to add personal touches. Whether that is grabbing a onesie that reminds me of my friend, or ordering a monogrammed bib. My baby shower gift formula has become pretty standard. Pick a few items off their registry that "go together", add in at least one personal touch, and viola you have a "theme gift."
Baby shower "theme" gifts include:
Diaper bag (from registry) + bottles + clever clothing item
A toy wagon + books (from registry)
Baby bath tub (from registry) + hooded towel
For adopting moms there can likely be several unknowns, including gender and sometimes timing. So, it's even more important to stick with the essentials. Parents who are adopting may or may not decide to start a registry before the baby arrives. Assuming they are adopting a newborn, here are a few go-to gift items:
A quality diaper bag: opt for gender neutral or pick a bag in a pattern that you know the parents will love. Some couples prefer a his & hers option, so ask a few questions before hand.
Bottles: Chicco's NaturalFit® Advanced Feeding & Southing System is engineered to be responsive to ever-changing feeding styles of babies. The nipples on these bottles have three distinct nipple shapes, that make adapting to specific needs easier as the baby grows. The best part? Chicco offers a money back guarantee*.
Bath essentials: There are several sample size bath items, that make great on-the-go items. Travel is often a step in the adoption process, so it's helpful to think of the small things for the adopting couple.
Your personal touch: this is where you can let your personality show. I'd recommend wandering around the toy, clothes, and/or book section of a local baby store.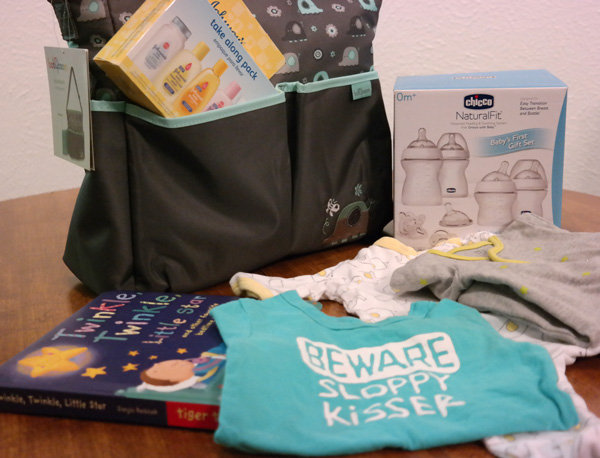 Chicco is hosting a contest!
Enter for a chance to win one of 18 tiered Chico Prize Packs. The contest ends September 30th. I-C will randomly select 18 winners from all tiered program entries and will handle fulfillment of the winning prizes.
[THIS GIVEAWAY HAS ENDED]
More about the NaturalFit® Advanced Feeding & Soothing System
We purchased our DIY baby shower kit at Baby's R Us. They had a stand-alone display with all of the NaturalFit items.
The bottles, or the nipples rather, grow with the kiddo – three distinct nipple shapes adapt to the specific needs of growing babies by changing shape as the baby's way of feeding develops.
Stage 1: is angled with a wider, rounded base to help newborns latch, while also encouraging proper neck positioning. Stage one, Newborn Flow, is available in 5oz and 8oz with twin anti-colic valves to help prevent air ingestion, gas and spit-up.
Stage 2: Adjustable Flow, Stage Two, replaces the angle nipple with a straight nipple. Around four months babies have better head and neck control. The flow also accommodates the baby's growing appetite.
Stage 3: This 11oz bottle with a fast flow nipple, is designed to accommodate older babies' increased suction strength. The elongated nipple also encourages correct swallowing.
Learn more about Chicco's NaturalFit and other products on their website, Facebook or Twitter.
*ABOUT CHICCO's GUARANTEE
Chicco is offering a 100% satisfaction guarantee for all NaturalFit bottles. The price of the bottles, plus the cost of shipping (up to $6.99) can be refunded if you are not satisfied. For details visit: chiccoshop.com