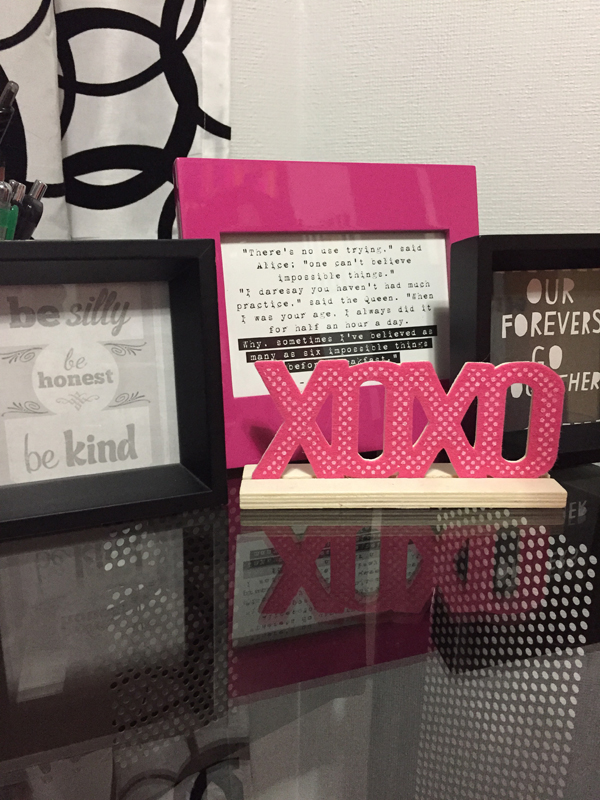 Starting a new job can be a little nerve racking, but it doesn't have to be. Whether it's you or a friend who has landed a new gig, grab some cute office supplies that will make the new office space feel comfortable and inviting.
Take a look at the eye-candy office items from fabulous brands we've rounded up below in our gift guide.
Cynthia Rowley
The renowned fashion designer Cynthia Rowley has an adorable collection of office supplies that's a hit for gifts. You can find these items online or at office supply stores, who have sales and special offers all the time. From floral to graphic, these patterns work together to represent your personality.
Frames and signs
Grab a picture frame gift for your friend and insert a picture of you guys, her pet or another special memory. Choose a frame with a bold look or with vivid colors to brighten up even the blandest cubicles.
The stands, such as the XOXO sign below, are also another gift idea to spruce up a desk.

Notepads, planners and more paper – including Bloom Designs and Blue Sky
Notepads and journals will help your friend capture her ideas and turn them into reality. The items shown here are easy on the eyes and full of color.
Planners also come in handy to help you keep track of meetings, events, deadlines and more.
If you or your friend is a fan of golf, tennis and yoga, consider these cute items below from Bloom Designs. The collection offers a variety of stationery, notepads (including magnetic ones), calendars, note cards and a handful of non-paper items such as candles, bag tags and coasters. (See the bottom of this post for a chance to win a sporty coffee tumbler from Bloom Designs!) The items from this collection make great gifts and are so creative!
Another too-cute planner I came across is the teal one below from Blue Sky. It's small enough to throw in my work bag or purse and has pages to keep track of your monthly goals (and it's a good idea to keep track of your goals and accomplishments at the new job!).
Flatterbox –  a sweet sentiment
Flatterbox is described as the little gift with a huge impact. It only takes a few minutes to customize a small acrylic box (very desk friendly) and choose a few compliments to add on a handful of cards. See how it works here. The sentiments are full of sweet and inspiring thoughts to remind your friend how special she is.
See Jane Work
I've been using products from See Jane Work for years, and I love it! From a variety of patterns and colors, this stylish and modern collection is another great option for the Gen-Y girl. Read about decorating tips and career advice on the company's blog.
Printed tape
These days, you can find hundreds of different types of tape. Think of a pattern or style, and chances are it exists! Purchase a roll or two to brighten up the deskspace and to jazz up your office supplies.
Books
I keep a couple of books laying around my office, including the AP Style book and some of my favorite novels. I came across these inspiring journals by the company Axel & Ash, with the titles, My BUCKETLIST and Swept Away by WANDERLUST. Each of the beautiful journals is filled with encouraging life and travel quotes, quirky writing prompts, and edgy global photography—all of which empowers the reader to decide what they want to do with their lives. The journals are designed to spark a fire inside each reader and entice those with adventurous souls to follow their wildest dreams. The journals also make for great conversation starters at work.
Pictured: Swept Away by WANDERLUST is available for $35 online.
CardNinja by Cubi
CardNinja is a handy item to have when out of the office. It easily fits business cards and cash right on the back of your phone and saves you time from fumbling through your wallet. The adhesive grips firmly to your smartphone and can be removed cleanly. The CardNinjas range from $10-$12 and make for an affordable gift! See the various patterns and designs here. 
GIVEAWAY – GOLF COFFEE TUMBLER
Win this golf-themed coffee tumbler created by Bloom Designs! Click the Rafflecopter link below to get started. We'll email the winner directly by Sunday, Nov. 15, 2015 at 9 p.m. CT. This giveaway is open to readers 18+ years old who live in the U.S., and the winner will be contacted via email. Thanks in advance for entering!
(Disclaimer: The Flatterbox, Wanderlust book and Bloom Designs products were provided for this post, and all opinions are my own.)