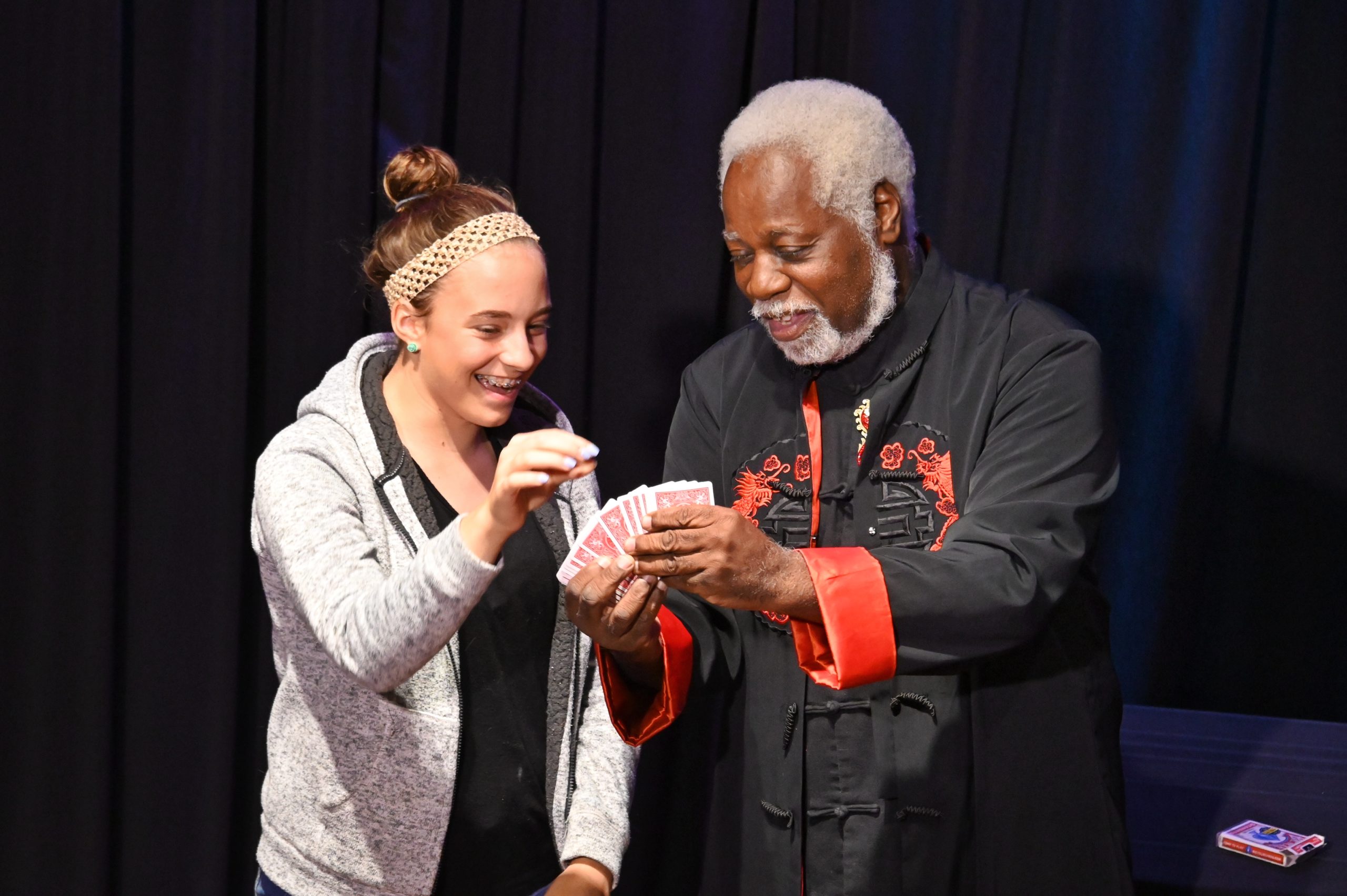 Liberty Magic is back with its phenomenal magic shows in downtown Pittsburgh!
The long intermission is over, as the venue re-opened a few days ago since the early days of the pandemic. The venue, an intimate speakeasy performance space, brings a unique side of arts and culture to Pittsburgh. Liberty Magic is dedicated to elevating the art of magic. Located on Liberty Ave., this is the same block where Harry Houdini mesmerized Pittsburgh crowds in 1916. We are so lucky to have a venue like this right in our own backyard!
Known for its dedication to art of sleight of hand and prestidigitation, Liberty Magic features a stellar lineup of national acts for the 2021-2022 season. 
The season kicked off with a nearly month-long residency with master magician Chris Capehart — and as I learned — he's the guy who once fooled Penn and Teller!
Chris shared his stories of his early days as a street performer to conquering the ancient techniques behind linking rings, and more fun and astonishing moments over the last four decades. In his current show in Pittsburgh, Journey of the Master, Chris demonstrates century's old magical props into modern, mind blowing, close-up illusions. Chris uses coins, ropes, rings, a deck of cards and other objects to showcase his talent – which left me in total awe. He also collaborated with a handful of audience members to bring even more magic to life.
What I love most about the venue is that audience members get an up close and personal view of the magicians. Unlike a theater style setting, Liberty Magic seats up to 66 people in its room, and VIP guests sit in the first two rows. Having this smaller, more intimate space allows guests to connect with the magician and be amazed at the magic even more.
Chris adds flair to his shows with his wit and funny jokes. He's not one to miss this season in Pittsburgh!
Chris Capehart in Journey of the Master runs October 6-29, 2021 (Wednesdays through Saturdays) — including two performances on Saturdays, one of which is geared toward children.
Click here to get tickets and to learn more about Liberty Magic's VIP and subscriber packages.
Liberty Magic is located at 811 Liberty Avenue, Pittsburgh PA 15222. Vaccination cards and masks are required for all performances at this time regardless of a guest's vaccination status.
To learn more about other exciting events hosted by Pittsburgh Cultural Trust, click here.
Disclaimer: I was provided with a media pass to attend the show, and all opinions are my own.