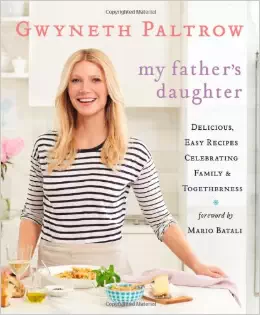 I love to cook and try out new recipes; in the recent past I have been using Pinterest to try new recipes. However, sometimes I swear people either didn't taste it when they made it or the recipe was mistyped. In light of all of those PinFails, I decided to start using professional recipes for a while. So I started looking for cookbooks, did you know that some of the best ones run about $30? Once I realized that, I decided there had to be a better way to try out new recipes. It turns out that the library has cookbooks! I was looking for a book on gardening and found a whole section of popular cookbooks.
Cookbooks I've checkout at the library
I have checked out Gwyneth Paltrow's Cookbook My Father's Daughter: Delicious, Easy Recipes Celebrating Family & Togetherness, it was interesting. I made a few things out of it and mainly snickered at the use of turkey bacon for bacon flavor. You be you girl and I will have bacon. I had considered buying this before I read it but realized that she requires more specialized ingredients than I keep in my house.

. . . .
Lately I have been working my way through the Ina Garten's Cookbooks. She writes a recipe that I can read and doesn't usually require ingredients that I don't have or gives suggestions for normal ingredients. I have loved almost all of the recipes that I have tried of hers; the only one I didn't love had way too much lemon for me.
. . . .
I was curious about healthy cookbooks so I grabbed a few at the library, turns out I like flavor and yummy things, so not for me.
. . . .
However, I love watching The Pioneer Woman on Food Network and had been interested in her cookbooks. I checked one out from the library and fell in love with her style of writing and the ease at which I can follow her recipe. I cook out of this cookbook all the time and I don't know that I would have purchased it if I hadn't 'checked it out' at the library. I'm looking forward to trying out some of her other cookbooks:
This post contains affiliate links to Amazon. This means if you make a purchase, we earn a small commission without any difference in your price. Thank you for supporting the sites that help Genpink grow. See our full disclosure policy here.