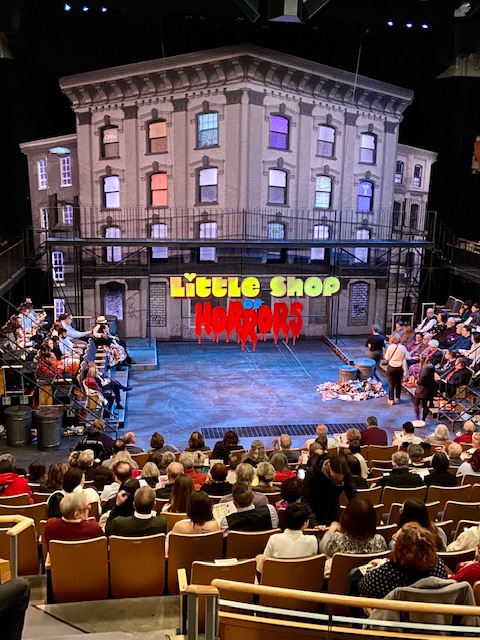 Now through February 23, check out a killer performance of Little Shop of Horrors at downtown Pittsburgh's O'Reilly Theater. The musical comedy follows the story of bloodthirsty plant growing vibrantly in a struggling flower shop. The shop staff quickly discover this is no ordinary plant as it grows tall, dances, sings and thrives on fresh human blood!
This was my first visit at The O'Reilly Theater in Pittsburgh. The theater seats 650 people and has a more intimate feel with its small stage. Every seat has a good view!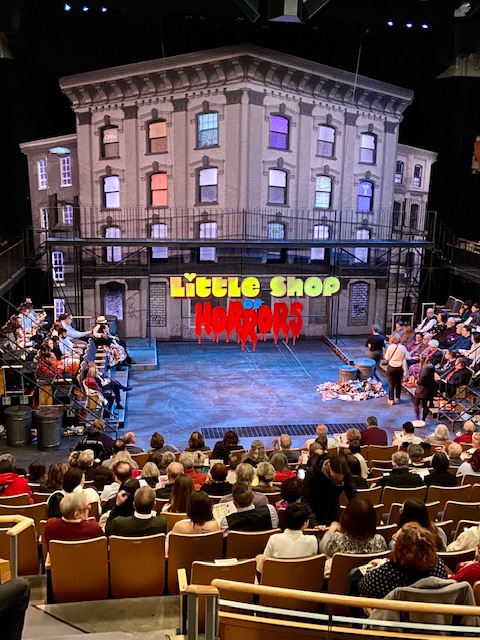 The cast did a phenomenal job in their roles. You have the klutzy yet smart botanist Seymour, the love interest, Audrey with her jazzlike vocals and lack of self esteem, the grumpy flower shop owner, Mr. Mushnik, the sadistic dentist, the beautifully singing trio and – of course – the talking plant, Audrey II. You can tell the cast members are having the time of their lives in their roles and going the extra mile for the stellar performances. Props to the cast member playing Audrey II, handling the puppetry smoothly and making the audience laugh (and equally creeped out) with his boisterous "feed me" shout outs.
Little Shop of Horrors' signature songs include "Downtown (Skid Row)," "Somewhere That's Green," and the awesome power ballad "Suddenly Seymour."
Performance Schedule Through 2/23
Tuesdays at 7 p.m.
Wednesdays through Saturdays at 8 p.m.
Saturdays at 2 p.m.
2 p.m. on Thurs., Feb. 20
Sundays at 2 p.m. and 7 p.m.
Tickets
Ticket prices start at $31, and student tickets are $16.50. Purchase tickets online, at The O'Reilly Box Office or by calling 412.316.1600. Discounts for groups of 10+ are available by contacting the theater at 412.316.8221 or groupsales@ppt.org. The O'Reilly Theater is located at 621 Penn Ave, Pittsburgh, PA 15222.
For more shows coming to Pittsburgh, check out the Pittsburgh Cultural Trust calendar. Shows include a ballet performance of Beauty the Beast, The Book of Merman and magic shows at Liberty Magic.
(Disclaimer: I attended the show on a media pass, and all opinions are my own.)