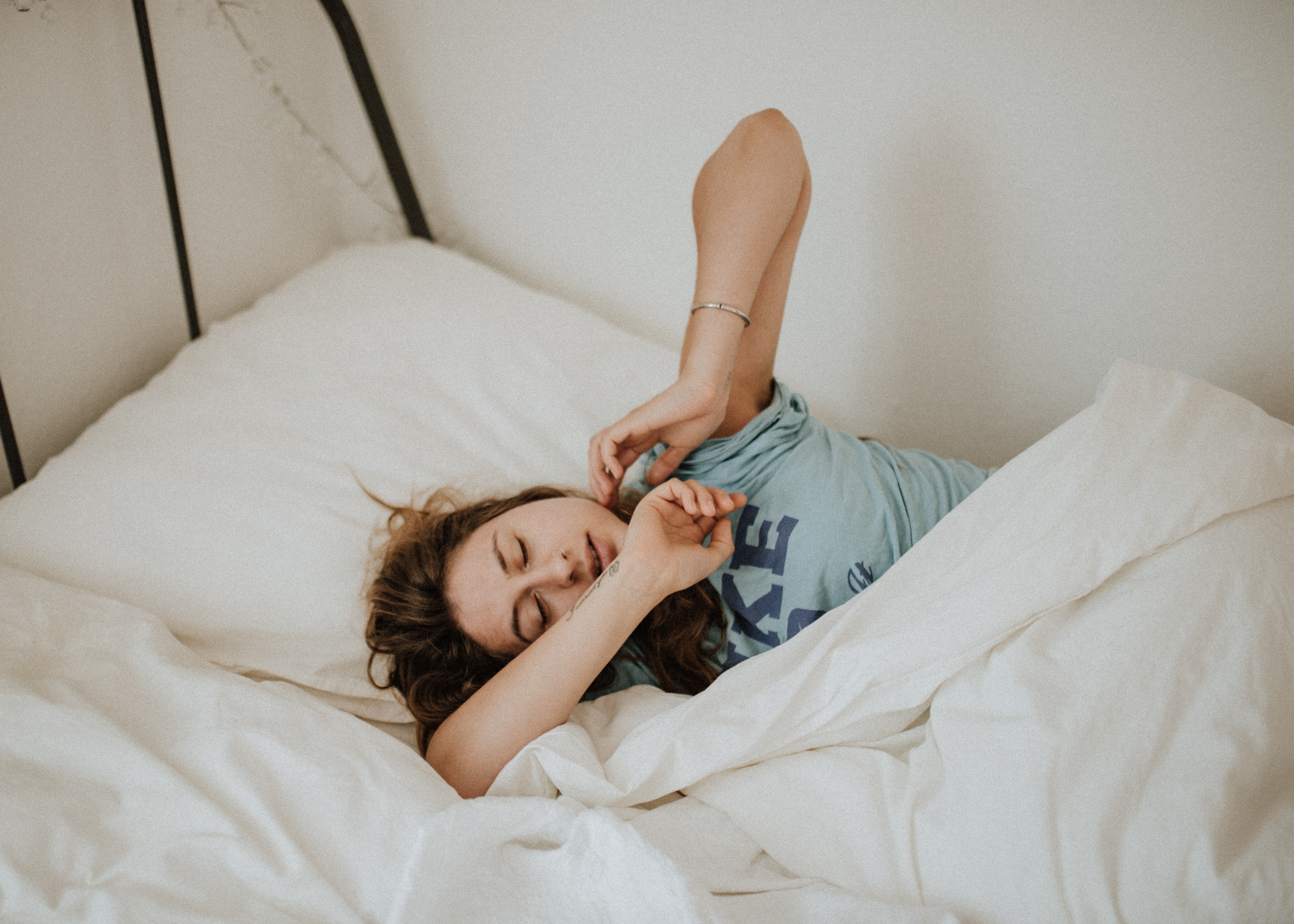 We all know the feeling: You wake up, stretch, and look over at your alarm clock – only to realize it never went off. Now you have fifteen minutes to do your hair, makeup, and get dressed? There's no way that's happening. At least, not without a makeup bag full of beauty products that were designed for mornings like this. Below is our list of go-to products for those mornings when your beauty sleep lasted just a little too long.
Tartan + Twine Basics Clear Clutch
The first step to having a great late-morning routine is having everything ready to go in a pre-determined place. Enter the Clear Clutch, which has room for all of the products you need, and ensures you can see whatever it is you need next (because, let's be honest: When you've got 5 minutes to put on makeup, every second counts).
Price: $12.00
Where to buy it: http://bit.ly/2FdThQn
Cetaphil Gentle Skin Cleansing Cloths
These cleansing cloths are perfect for rushed mornings – they'll leave your skin feeling fresh and clean without being sticky, and are dermatologist tested and safe for sensitive skin. For mornings when you don't have time for an 8-step cleansing routine, these guys will work just fine.
Price: $11.99 for a two-pack
Where to buy it: http://bit.ly/2oOgnCe
IT Cosmetics Your Skin But Better CC Cream + SPF 50 
This CC cream is amazing. It provides more coverage than the average CC cream, but doesn't feel like you're wearing a thing. It also blends beautifully, which means even if you're applying it while waiting in traffic, you won't look uneven after applying it. This CC cream also contains SPF 50, and lasts forever due to how little you need to use to get full coverage.
Price: $38.00
Where to buy it: http://bit.ly/2mJMMtC
Estee Lauder Double Wear Stay-in-Place Flawless Wear Concealer
Just dot, blend, and you're good to go! This concealer is very forgiving, lasts all day, and doesn't feel cakey. Just dab along the sides of your nose, under your eyes (remember to apply concealer in an upside-down triangle under the eyes, not just where you can see dark circles! This creates a greater illusion of light, making those dark bags disappear), and gently blend.
Price: $28.00
Where to buy it: http://bit.ly/2D1Xf8S
The Multiple by NARS
This product will be your late-morning best friend. It might be little, but it packs a big punch by being a lip, eye, cheek, and body stick. For mornings when you have time for nothing else, this may be the go-to item you hold on to! It looks great as a highlighter/light blush for cheeks, a quick matte gloss for lips, a highlight for eyes, and a body shimmer. This is also the perfect tool to transition from work to night, as it can be applied anywhere for some extra highlight and shimmer.
Price: $39.00
Where to buy it: http://bit.ly/2oPP3EH
Maybelline FaceStudio Master Contour and Highlight V-Shape Duo Stick
If you can't leave the house without some sort of contour, this duo stick will save the day. Contour on one side and highlight on another, it can be applied and blended quickly. And at only $8.99, there's no reason not to have one in your makeup bag! The highlight can also be used under your brow arch or as a light eyeshadow, and the contour color is great for an eye-crease or outer lid color when blended with the highlight.
Price: $8.99
Where to buy it: http://bit.ly/2FfzQXE
Benefit Cosmetics Brow Zings Tame & Shape Kit 
This brow kit is easy to use, and fool-proof. The wax shadow on the left side of the kit can be used to outline and define your shape, and the shadow on the right is perfect for filling in sparse areas and setting the brow. The color lasts all day, and the mini angled brush that comes with the kit is perfect for defining and filling in!
Price:$32.00
Where to buy it: http://seph.me/2DxbeES
Shiseido Eyelash Curler
If you woke up on the wrong side of the bed, a good eyelash curler is a necessity for a quick makeup routine. Curled lashes help open up the face, make your eyes look more awake, and make your lashes look longer (and who doesn't want that?). This eyelash curler by Shiseido is gentle on lashes and leaves them looking great.
Price: $20.00
Where to buy it: http://seph.me/2FiEIqQ
Sephora Collection Full Action Extreme Effect Mascara 
A quick swipe of mascara can do wonders for tired eyes! We love the Sephora Extreme Effect Mascara – the brush has bristles that don't get clumped together, so the mascara goes on smooth, and lasts all day. We also like that the brush doesn't have a crazy shape, so it's easy to apply quickly, and the mascara always goes on consistently.
Price: $12.00 (on sale now for $7.00!)
Where to buy it: http://seph.me/2I3qtb8
Clinique Long Last Soft Matte Lipstick
The beauty of a bold lip is that the rest of your makeup is supposed to be more mellow so it can take a back seat to your made-up pout. If you don't have time to do your usual makeup routine, it's the perfect excuse to go big with your lip color. This lipstick is matte, smooth, and lasts all day. Another bonus? It stays even after a few cups of coffee (which you'll most likely be needing after waking up late), so you don't have to worry about re-applying all day.
Price: $13.00 on sale now! (normally $17.50)
Where to buy it: http://seph.me/2FUPbd1
Batiste Hint of Color Dry Shampoo
This dry shampoo leaves hair looking good and smelling like you had the time to wash your hair. We also love that there are multiple hints of color to choose from, so it doesn't look like you have baby powder all over the crown of your head. After applying Batiste, massage the spray into your hair, and then pull back into a messy bun or low chignon.
Price: $8.99
Where to buy it: http://bit.ly/2Fr16BC
Waking up late is never a great way to start off the day; but with a quick hair and makeup routine, you may find you have time to drive through your favorite coffee shop on the way to work – looking fabulous and having time for a little caffeine boost sounds like the perfect way to turn that day around!