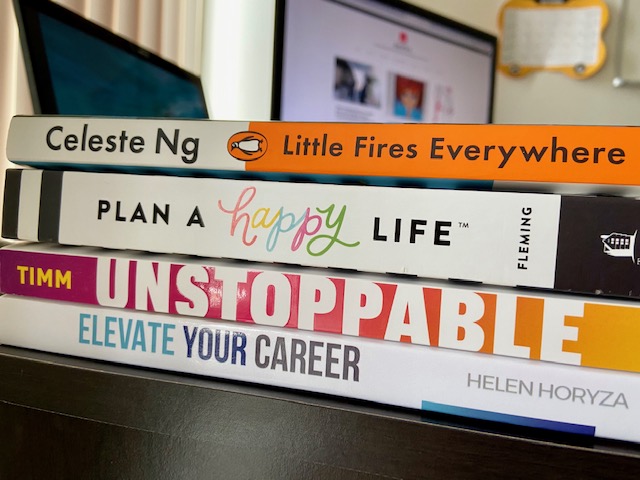 We're embracing the start of fall with a cup of PSL, busting out cozy sweaters and kicking back with some new fall reads. See our picks below for this month, including a book giveaway!
Plan a Happy Life (win this book!)
Hot off the press! Plan a Happy Life by Stephanie Fleming is a the top of our list this month. As a Type-A person like me, organization, planning and schedules are a part of my every day life. Stephanie's latest book includes strategies, systems and methods for permanently getting organized, prioritizing what's most important to you, and living intentionally. It's everything I love rolled up into a colorful, easy-to-follow book. Some of my favorite parts of the book include how to make the most effective lists (hint: it involves stickers!) and a step-by-step guide to controlling your calendar.
Don't miss out on the super cute accessories and planners from Stephanie's company, The Happy Planner. They were so kind in sending me a box full of accessories to keep me organized – especially as I've been working from home these past few months. The materials really boost my happiness while at home and give me something to look forward to every day. Shop the collection here and learn more about the book here.
For a chance to win a copy of the book for free, leave us a comment below or on our Instagram page (@genpink) on what you makes you HAPPY! We'll choose a winner by the end of the month.
Little Fires Everywhere (Reese's Book Club)
Did you read the book or watch the show on Hulu first? In Little Fires Everywhere, by Celeste Ng, is set in the late '90s and follows the story of two families divided by race and class. The book couldn't be more timely in today's society. I enjoyed the opening (a total hook), and the story puts you in the shoes of different families…. pushing you to think out of your comfort zone. Find it on Amazon here.

Adulting as a Millennial: A Guide to Everything Your Parents Didn't Teach You
Author Asha Tarry is an award-winning community mental health advocate, psychotherapist and certified life coach. In her book, she talks about creating abundance in everything people want to place their focus on. She offers insightful questions to help her readers to activate powerful new thoughts and provides action steps to create a lifestyle of independent action. (Hey, we like action steps to keep us focused!) Tarry also opens up about her transformative situations that changed her own life and hopes to inspire others. Get the book here.
Elevate Your Career
Career development coach Helen Horyza aims to help people uncover their true passion and set a course for career satisfaction. She wants to reader to think on these questions: Are you in an unrewarding career right now? Do you fear change? Do you lack any skills needed for your current or dream job? Whatever the case, staying in an unfulfilling job prevents you from doing what you really want to do. The author will demonstrate how you can restart your career with a renewed vision and finding a path that brings your interests and dreams together – so you can truly be happy! Click here for more information on the book.
To Call Myself Beloved: a Story of Hope, Healing, and Coming
September is National Self Care Month, and this book is perfect for those seeking self care and balance. And that may be many of us especially in these trying times! Transformational mindset and success coach Leisse Wilcox released this as her first book just weeks ago. She honestly shares how she overcame  childhood trauma, divorce and beating breast cancer — and how these experiences helped find her clarity in what she wants, and confidence in who she is. Readers will learn how to use Leisse's unique process, called Emotional Alchemy, to get past any uncomfortable and dark moments in their lives. Buy the book here.
Unstoppable: Discover Your True Value, Define Your Genius Zone, and Drive Your Dream Career
Career clarity expert Tracy Timm experienced a career identity crisis at age 25 while working on Wall Street. (Does this sound like you – off or on Wall Street??) After two years of soul-searching, three years of human capital advisory work, and countless career and mentor conversations, she made an incredible breakthrough and now shares with readers her Nth Degree® Methodology. This method includes seven steps and will show you how to find work you love and get paid well in the process. The book will be available here on Sept. 29!
Giveaway details: Leave a comment below or on our Instagram page on what makes you happy! Entrants must be 18+ and live in the U.S. to be considered. One winner will be randomly picked by 9/30 and will be contacted directly. Good luck!
(Disclaimer: Copies of most books were sent to us for consideration in this article. All opinions are my own.)