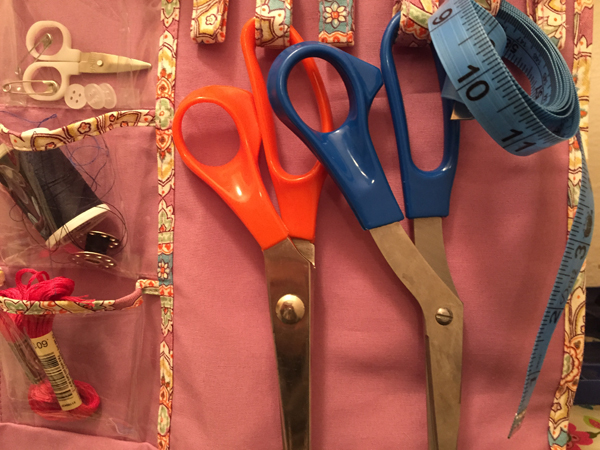 I love crafting but in my two bedroom-two bath apartment there really isn't space for a craft room or even a craft table. I have had to get creative in how to keep my sewing supplies organized and easily put away. My mom gave me a jewelry organizer (similar Jewelry Organizer / Jewelry Storage Bag) several years ago and I already had a great way to organize my jewelry so I wasn't quite sure what to do with it then I realized that it is perfect for organizing my thread, scissors, measuring tapes, and the rest of the sewing notions.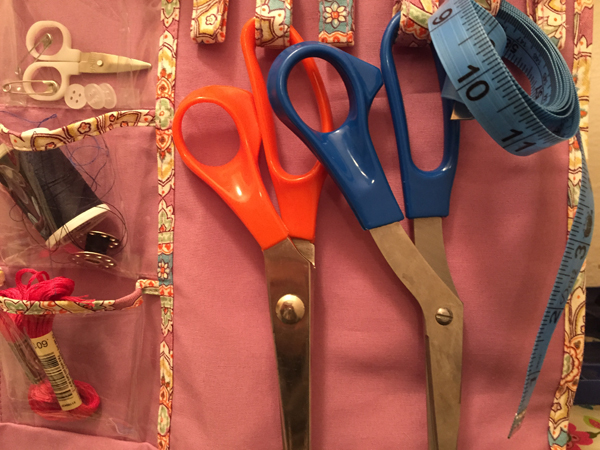 I have opted to take a corner of my spare closet to keep all of my craft supplies together. On the shelf I have all of my fabric in a crate on it's side and my sewing machine lives next to it. On the upper closet rod I hang the jewelry organizer repurposed into a thread, bobbins, notions, and all things sewing organizer. I don't use the paints that I own all that often but they too live in this closet.
It is nice to be able to walk in and see the fabric and all of the thread that I have. This system has allowed me to have a place for all of my sewing supplies so that when I am done with my projects I can clean up easily. I also like that all of my supplies don't take up too much space in my spare closet. I find that I am more likely to undertake a sewing project since I know where all of the tools are. Another bonus is that I don't have as many repeat thread colors, for a while I didn't really know what colors I had since I kept them in a box so I would just buy a matching color to go with every fabric. (Notice all of the red thread happening here)
I love having all of my supplies together and that I was able to create this sewing nook by repurposing things that I already had or were easily purchased. I have been able to sew more often since cleanup is so much easier and I know where all of supplies are.
Some of my favorite sewing essentials: