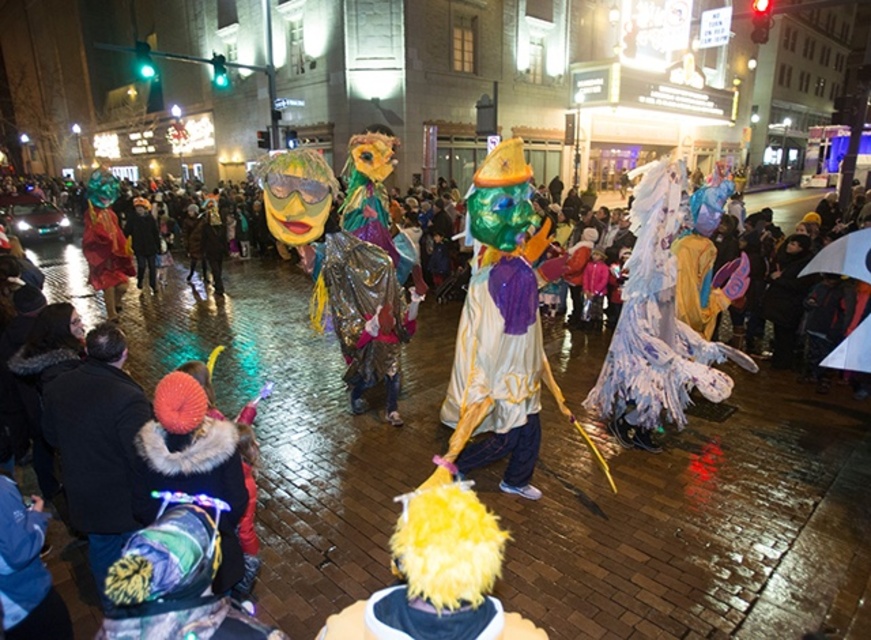 We are so lucky in Pittsburgh to have a venue dedicated to magic performances. Located at 811 Liberty, on the same block where Harry Houdini mesmerized Pittsburgh crowds in 1916, Liberty Magic is an intimate, speakeasy performance space dedicated to the art of sleight of hand and prestidigitation. The venue has brought an array of talent to Pittsburgh for month-long shows, and the latest features illusionist and magician Siegfried Tieber.
His show, Sixty-Seven Keys, blurs the line between the improbable and the impossible. As a storyteller and magician, he uses sleight of hand, magic and illusion to guide his audience through an unlikely journey unlocked by a single key selected by each night's audience. Inspired by The Seven Keys to Baldpate – a book written in 1913 about a man who visits a secluded inn to find some peace and quiet, only to be distracted by six other characters who also have keys to his chamber – Sixty-Seven Keys presents its own set of obstacles to overcome as mysteries unfold during every performance.
He fooled his heros Penn & Teller once before, and he definitely got us to believe in magic in his Pittsburgh show. He starts the show with interesting Rubik's Cube tricks and moves into challenging and impressive card tricks. The audience joins in on the fun, and many of us got to participate in this interactive show.
Siegfried's shows have highly praised by reviewers and critics over the years, and this Pittsburgh show is not to miss. Just a few shows remain through January 2. Click here for tickets.
Run time: 70 minutes
Upcoming arts & culture events in Pittsburgh
New Year's Eve
Ring in 2022 in the Cultural District! Highmark First Night Pittsburgh, a production of the Pittsburgh Cultural Trust, is free and open to everyone. This year's event is mostly outside, featuring music, dance, visual art, comedy, magic (including additional performances by Siegfried Tieber) and other creative activities throughout downtown. Select free tickets are required for some events. See the full lineup here.
Januscary Film Festival at the Harris Theater
Catch six classic and new horror films throughout the first week of January at Harris Theater in downtown. Called Januscary, the events kick off with a FREE screening of John Carpenter's, The Thing on Saturday on January 1 at 8pm, and a free ticket is required for entry. The five remaining films include Hellbender, Night Drive, Eyes of Fire, Let the Wrong One In, and We're All Going to the World's Fair, which will run on select days and times January 1st through 6th. Purchase tickets to any screening of all five films in the Januscary Film Festival and save $3.00 per ticket. For tickets in-person, please visit the Harris Theater box office, call 412-456-6666 or visit TrustArts.org/Film.
OKLAHOMA! Comes to Benedum Center
'This is OKLAHOMA! like you've never seen it before! The 2019 Tony-winning Best Revival of a Musical, visiting Pittsburgh January 4-9, 2022, has been re-imagined by the visionary director Daniel Fish and reveals a distinctly modern subtext to the classic 1943 musical by Richard Rodgers and Oscar Hammerstein.  Not a word of text was changed in the script, but the artistic choices employed in this production yield a new vision on a classic story. Read on for some additional context that will help set the stage as you experience this classic musical in a whole new light. (This production of OKLAHOMA! is recommended for children ages 12 and up and contains fog, loud gunshot effects, moments of total darkness and violence.) Click here to get tickets.
(Disclaimer: My ticket to Liberty Magic was provided by the Cultural Trust, and all opinions are my own.)