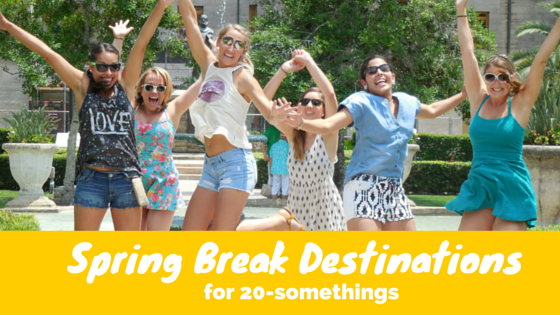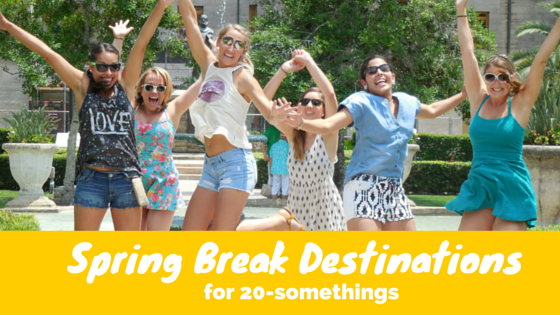 With the holidays long gone and the next three-day weekend no where in sight, you might be feeling a little run down.
You know the feeling…you start sleeping in an extra five minutes in the morning, which eventually turns in to an extra 20. You cajole yourself in to powering through an extra hour of work in the evening with the promise of a big glass of wine at the finish line.
These things are all fine practices. After all, we've got to show ourselves some love sometimes, but these things may be a sign you're becoming a tad to frazzled from lighting the candle at both ends.
Time to reel it back in and consider another option for showing yourself some love, going on vacation. It seems like a "duh, I know" kind of suggestion, but think about it…when's the last time you used your vacation days to truly take a vacation?
Has it been awhile? We thought so.
Now that your travel bug has been poked, it's time to start dreaming up your spring break getaway. From wallet-friendly retreats to cozy beach bungalows these are a few of our favorite destinations for work-weary souls:
Costa Rica
Costa Rica is truly the best of both worlds when it comes to travel destinations. You've got mountains, beaches and lush rainforest all within a couple hours of each other, and for travelers who like to mix it up from day to day, there's plenty to keep you busy.
If you're looking for something adventurous we suggest taking a zipline tour through the rainforest for an unforgettable adrenaline rush, and if you're in the mood to just kick it and relax take your pick of any of Costa Rica's beautiful beaches.
Where to Stay: On the north Pacific coast of Costa Rica, Sueño Del Mar is a charming and family-run, six-room inn that includes handcrafted wood beds draped with gorgeous textiles, whitewashed stone walls, outdoor Balinese-style showers and breakfast every morning. Sueño Del Mar's seasonal rates start from $220 per night.
Daytona Beach
If you're looking for a strictly beaching it getaway, Daytona Beach is going to meet all of your expectations. With a straight 23-mile stretch of beach with plenty of good eats and shopping within steps of the sand, your only job will be making sure you apply enough sunscreen.
But if you are looking to take a break from basking in the sun and want to work up a sweat, try renting a kayak or paddle board or taking a surf lesson to get good soak in the saltwater.
Where to Stay: Located on a quiet, tree-lined street, the Hawaiian Inn Beach Resort is situated right next to Daytona Beach. In true Florida decor, the inside of each room features bright, tropical colors as well as unique and colorful art, pottery, and hand-painted furniture. If you want to take a dip without worrying about the sand, the Hawaiian Inn Beach Resort also has a quiet pool surrounded by thick greenery and a well-kept garden. Oceanfront views start from $95 per night.
Palm Springs, CA
Who knew the desert could be such a blissful vacation spot? There's plenty of trails to explore with beautiful mountain views, and once you've had your fill of nature, you can get another workout in by shopping 'til you drop at one of Palms Springs' epic shopping areas. We don't know about you, but this sounds like the true definition of "Treat Yo Self."
Where to Stay: Located in downtown Palm Springs, you can channel your inner Don Draper by sunning at the saltwater pool of the minimalist Del Marcos Hotel. This mid-century charmer has 17 rooms, each styled and titled differently, and it caters to a design-savvy crowd looking for a grown-up (no kids allowed, pets welcome) getaway. Seasonal rates start at $179 per night.
The Bahamas
If you want to experience the powdery sand and bright blue waters that you think only exist in postcards, you have to go with the Bahamas. You'll experience the true island way of life where there's no timetable to stick to and anytime is ideal for a cocktail.
And just going to throw this out there, but if you've always dreamt of swimming with the dolphins and being surrounded by schools of colorful fish in a bright coral reef, this place will make your mermaid dreams comes true.
Where to Stay: Staniel Cay has hosted cinema legends like Sean Connery and served as a backdrop for the 1965 James Bond film Thunderball. This inn has nine pastel and shabby-chic inspired bungalows as well as a secluded beach atmosphere. Seasonal rates start at $215 per night.
No matter where you choose to go, just make sure you take the steps to make it a reality.  Request time off from your boss, put together a group of friends if you don't want to go solo, book your reservations and get exploring.
Life's too short to collect PTO; time to go use it!
About the author:
Meet Anna – breakfast pizza lover and mom to Norman, the basset hound. As a 20-something working in the freelance world, traveling is definitely something Anna loves to do. If she's not surfing the waves or jamming to reggae, you can find her designing a new marketing campaign for her clients. Say hello to her on Twitter @annaleacrowe.