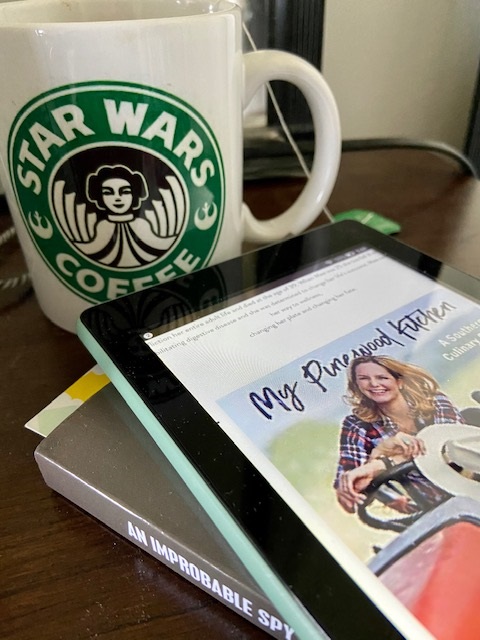 Find your next book in our latest roundup! From motivational books to mystery, cooking and more, enjoy the titles below!
Dallas-based performance coach Jake Thompson shares the seven key choices that leaders make in order to enhance their focus, increase their levels of success, and win their work and life. Coming soon is his first book, Compete Every Day: The Not-So-Secret Secret to Winning Your Work and Life. The book examines the important actions that the best of the best make on a daily basis in order to separate themselves from everyone else. The lessons shared can be used by everyone, but most rarely do believe that "winning can't be that simple." In reality, it is that simple. The magic, however, is in the application of these seven lessons every single day. You'll learn how embracing your own competitor mindset will allow you to do just that. Pre-order the book now here. 
Texas-based business mogul and now author, Lalanii Wilson Jones along with Los Angeles-based public relations strategist/author Treavion Davenport, release their debut collaboration, Sugar Mama: A Keilanii Jennings Saga, an urban fiction novel that takes its audience on an exhilarating journey with the main character, Keilanii Jennings. As a sexy, feisty, independent, proud Texas mogul in the making makes no apologies about splurging on her lavish lifestyle, designer labels, five-star getaways, and her boy toys. Keilanii is a confident, self-made success story whose life takes complex twists and turns while building her empire. Things start to get even more interesting when she meets Elliot Jennings, Jr., a handsome, charismatic companion who turns out to be her worst nightmare. Like most women, Keilanii wanted to have it all, including her happily ever after. This seemed imminent until she discovers that the man who stole her heart tries to steal her fortune and is exposed as the ultimate gold digger. We loved reading this novel and recommend it for anyone looking for the next level girl boss book!
Know someone who just graduated? Bestselling author Katherine Schwarzenegger embarked on a year-long quest to gather the best guidance possible from more than thirty highly successful people working in fields like business, media, fashion, technology, sports, and philanthropy. I Just Graduated … Now What? provides surprising advice for graduates including how to find a job in a touch economy, how to decide on a career path, balancing work and life, managing student loan debt and more.
It's impossible not to wonder 'why' when one family suffers more tragedy than anyone should have to bear. Yet after Soheila Adelipour and her family fled war-torn Iran to begin a new life in America, tragedy followed them. Soheila lost a son, brother and sister, but instead of letting it destroy her, she established a foundation in her son's name to provide healing and salvation for those less fortunate. She chronicled her experiences in a most inspiring and extraordinary story, Dancing to the Darkest Light. This is a truly inspiring book following the life of a courageous woman who shows how to overcome hardships that life throws our way. Soheila will inspire readers and will hopefully leave you with hope and gratitude.
Debuting this August is An Improbable Spy by David Paul Collins. An ultimate page turner, Collins writes an exciting, fast-paced novel on the Islamic revolution in Iran and its tragic aftermath. Based on Collins's real life experiences in the Middle East during the Islamic Revolution in Iran, he captures the readers emotions by writing from a place of authenticity and understanding. The main character, American businessman Jack Devlin, narrowly escaped the revolutionary chaos, leaving behind 80 percent of his business and 100 percent of his heart. To get his beautiful girlfriend out of Iran, Jack accepts a devil's bargain with the CIA and MI6. This is one mystery book not to miss!
Let this cookbook transport you to beautiful beaches around the world. Beach House Dinners: Simple, Summer-Inspired Meals for Entertaining Year-Round, by chef Lei Shishak, includes over 80 recipes such as Summer Tomato Soup with Three Cheese Panini, Coconut Shrimp, Roasted Whole Sea Bass, Hearts of Palm Salad, and Lobster Roll — YUM!
This next cookbook features recipes for those who are plant-based and gluten free. New to the world of recipe books is My Pinewood Kitchen: A Southern Culinary Cure/130+ Crazy Delicious, Gluten-Free Recipes to Reduce Inflammation and Make Your Gut Happy by Mee McCormick. Her Black Bean Chicken Chili and Immune-Boosting Chicken & Quinoa Soup all sound delicious! She can teach home cooks how to repurpose items to reduce food waste and reveal the healthiest foods you need in your pandemic pantry.
This next book doesn't publish until August, so if you got a green thumb, be sure to bookmark the link! In Modern Faux Flower Projects: Fresh, Stylish Arrangements and Home Decor with Silk Florals and Faux Greenery by interior designer Stevie Storck, Learn how to make lovely, long-lasting home décor using silk flowers. See 12 beautiful arrangements, wreaths, garlands, wall hangings, tabletop centerpieces, and other innovative projects fit for any home! The book is categorized by season and includes step-by-step instructions, photography, helpful design, color scheme, texture, technique, and composition tips, and artist profiles to help you see all the possibilities and let your creativity bloom year-round.