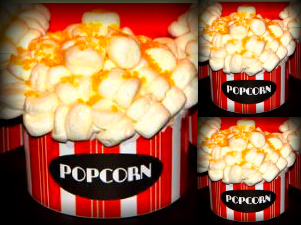 If you're like me and have a major sweet tooth, opting out of dessert after a meal doesn't happen much. Here are a few savoring treats that are affordable and can satisfy your sugar craving.
Pretty Popcorn
This lush popcorn by 
Sweet Mary's 
certainly captured my eye. "The Perfect Date" (pictured above) is a great mix of sweet and salty with white chocolate, a chocolate drizzle and a tangy raspberry finish. Buy this 1/2 pound batch of popcorn for any occasion.
Ideas include:
date night
hostess gift for any gathering (office, baby shower, bridal, birthday)
a night in- alone!

Dress up your cupcake
Here's a different dessert idea but still just as sweet! 
Roundabouts® Cupcake Sleeves
 aren't your average sleeves. This idea was made for you to "dress up" your cupcpakes with super cool designs. And, it's easy to use. Simply wrap the paper sleeve around the baked cupcake to give it a whole new look. There are many choices to pick from- mini-margaritas, baby bottles, sushi, cars, wedding themes and much more.
Spruce Up Your Seasoning
If you like to mix up fruit with chocolate, this next product is for you. 
Nueva Cocina,
a Latin-based cuisine company, came up with their own receipe of chocolate bark. It includes their chipotle seasoning, semi-sweet chocolate chips (less calories than regular chocolate chips!) and craisins. Check out the reciepe below on how you can make this treat at home.
Nueva Cocina Spicy Chocolate Chipotle Bark
Ingredients
1 – 1oz pk of Nueva Cocina Chipotle seasoning
1 – 12oz pk semi-sweet chocolate chips
1 cup craisins
Preparation
Mix all of the above ingredients in a small pot simmer at the lowest setting on your stove, mixing constantly.  Once chocolate is completely melted about 10 minutes, transfer to a parchment lined cookie sheet.  Let cool by refrigerating for about 30 minutes.  Once completely hardened, rough chop into desired pieces.   Sprinkle with a touch of sea salt.
Enjoy!!
Disclaimer: Samples of the last two products were sent to us for review, but of course we always give our honest opinions! We were not compensated for this review, other than those very yummy samples!