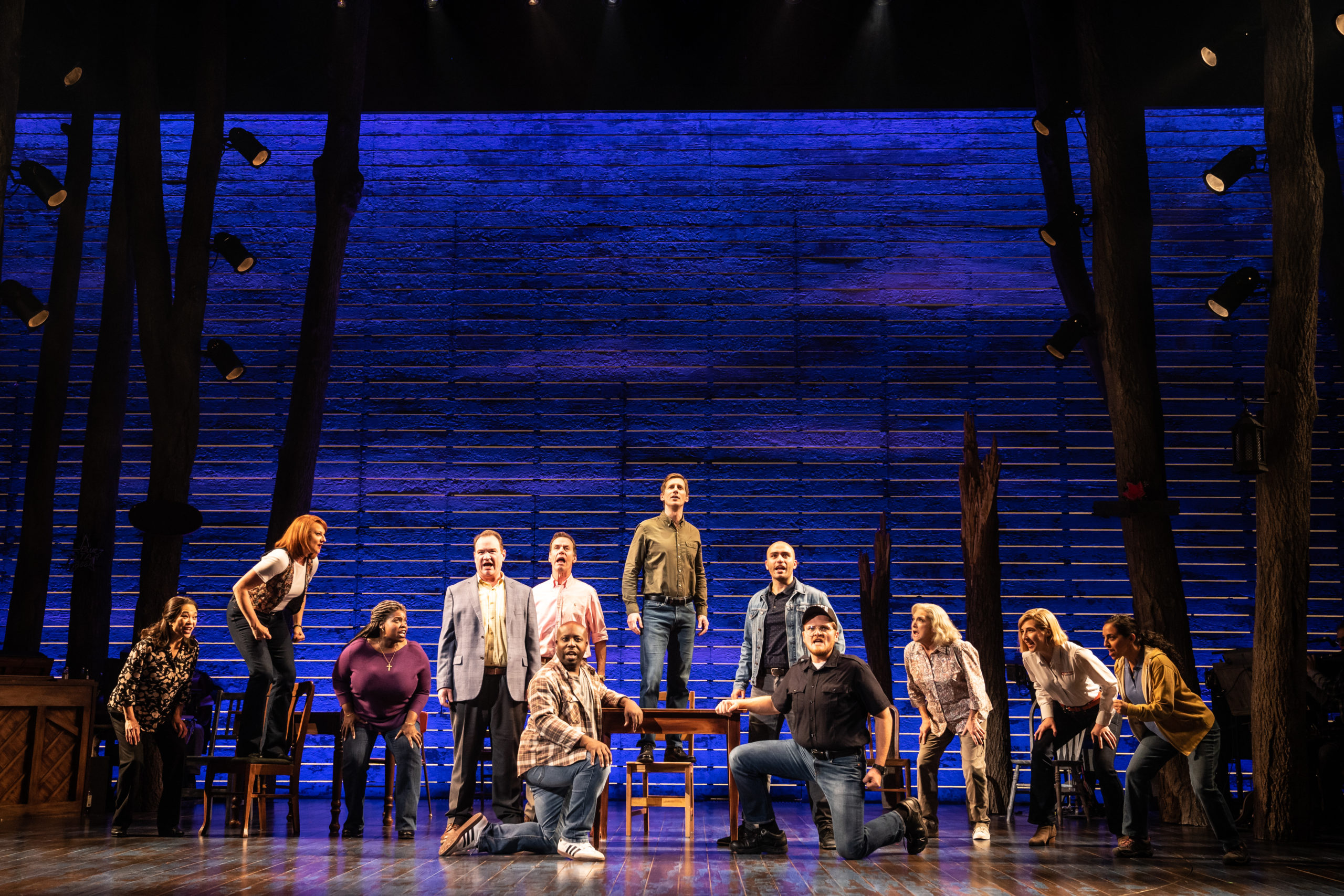 It is with some sadness that I'm writing a review of a fabulous show that you'll likely have to wait to see. We were fortunate to attend the opening of Come from Away, the Broadway smash hit, as it traveled to the Music Hall at Fair Park as part of the Dallas Summer Musicals. As of this writing, the show has been suspended due to caution regarding COVID-19, and it is our understanding that the team at the Dallas Summer Musicals is seeking a date to bring the show back. If they are able to do so, I'd highly encourage seeing this timely, entertaining and moving musical.
It is strange that of all shows to have been brought to this venue and at this time it was Come from Away. No show could be more timely in this turbulent and unsure time. The Canadian originated show details the true story of what happened beginning on September 11, 2001, when 38 international flights were forced to land in the small town of Gander in Newfoundland, depositing over 7,000 unexpecing travelers on a small town ill equipped to handle 700 visitors, let alone 7,000.
When 9/11 struck, the tiny berg of Gander really stepped up, initially turning every school and rec center into makeshift shelters for the 7,000 people forced to deplane with nothing more than their carry-on luggage. Eventually, the stalwart Newfoundlanders not only fed the visiting hordes, but bunked them in their homes, created events to help keep people from fixating on the news from home, and created a welcoming refuge during trying times. What a stark difference from the hording of toilet paper and cleaning supplies that highlight today's news.
The one act show combines songs which carry the audience from the initial isolation of Gander to the shock of world news as 38 planes arrive at an airport with only 2 payphones, in an era when few would have cell phones readily available. Moreover, the show has a sensitive way of transitioning between the fear and anguish of the passengers to light moments between the travelers and their hosts.
Like each of us play many roles in life, the 12-member cast of Come from Away each play multiple characters, each of which has different accents, inflections and motivations. The sparse sets, made up almost entirely of a small collection of tables and chairs, makes the transitions in place and storyline even more impressive.
As one of the featured flights was an American Airlines flight from Paris to DFW, the crowd loved the Texas references. And, those who have followed the history of 9-11 may be familiar with the name Beverley Bass, the pilot of that AA flight and the first female captain of American Airlines. Marika Aubrey as Beverley showed strength and authority as well as real human vulnerability.
The show orchestra, which is more a Canadian folk band, performs entirely from the stage, and add energy and light throughout the show. Their curtain call was a concert unto itself!
As of this writing, we don't know when Come from Away will return to North Texas, but I'd make a point of taking a Gander at this great show when it comes back.