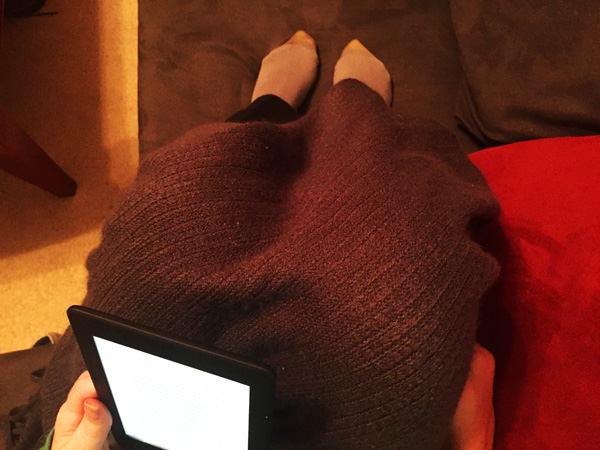 This post is in partnership with GoldToe®. 
Here's the scenario, you've just plopped down on the couch after a long work day. Your brain has run out of "wannas." You have every intention of relaxing with the latest show you've recording on your DVR (or in my case Hulu). Two minutes in, you hit pause, to run in the kitchen to grab some tea. Unpause. Five minutes pass, you decide to check the notifications on your Facebook… just for a moment. Until, you look up and the show is over. Is it possible that a 42 minute episode has come and gone and you were only half-paying attention? Yes, yes it is. The term I learned for this many years ago is "demi-tasking". Jody Gilber, from TechRepublic, asks "Do you listen 100 percent of the time or are you usually mentally engaged in several things at once?"
Even in your relaxing time, it's important to be aware of how you're spending your mental energy. If watching a TV show and reading a book at the same time is indeed relaxing for you, then go for it. But if an hour has passed and you're feeling scattered chances are one of your demi-tasks needs to take a step to the side. 
Here are some tips, and a challenge to myself, to enjoy the moment.
(1) Dress the Part
When i try to jump into relaxation mode right after work, it takes a while to unwind. However, if I physically change into comfy mode, it's easier to switch my brain into a lower gear. For me, comfy gear is yoga pants, socks, and either a blanket or a hoodie. And yes, I know it's July. My husband is part polar bear, so our AC is usually working over-time. Plus, as one of my favorite Pinterest quotes says "all you need is tea and warm socks."
Gold Toe®'s new Ultra Soft, Oh. So. Soft socks are beyond comfy. Plus, my mom has worn Gold Toe brand since I was little, so even just seeing them on my feet reminds me of home. 
(2) Get moving
If I need an extra kick to unwind, we will go walk around the neighborhood. Our usual route is about a mile and a half. It's just long enough to get my heart-rate up, but not too much of a time commitment.
The socks are so comfy, all you have to do is take your shoes off when you get home and you're ready to relax. The fun colors are my favorite. I'm not sure, but I do believe there's a little bit of magic in the material. 
(3) Stop trying to do everything at the same time.
This should seem obvious. But seriously, the world will not come to an end if I don't check my emails while I'm relaxing. 
(4) Turn off notifications
Whether you turn all of your devices off, set them to Do Not Disturb, or move them away from you – figure out a way to keep from jumping at every ding/text/email/phone call. I have my iPhone set to automatically turn to Do Not Disturb for particular times of the day.
Because I'm easily distracted when I'm using any sort of device, I opted to get a Kindle Paperwhite so I wouldn't be tempted to check Twitter, email, or texts while I am reading. 
(5) Be Present
Whatever you're doing, whoever you're with, be there … with them. Rory and I both keep pretty hectic schedules, so it's a bonus when we both get down time at the same time. 
About GoldToe®
Give your feet the comfort they deserve with new Oh. So. Soft. styles from Gold Toe®.  Ultra soft microfiber polyester for incredible softness.  Soft, flexible spandex for the Perfect Fit®.  Reinforced toes for long lasting durability.
Connect with GoldToe: Facebook | Twitter | Pinterest
This is a sponsored post written by me on behalf of Gold Toe.