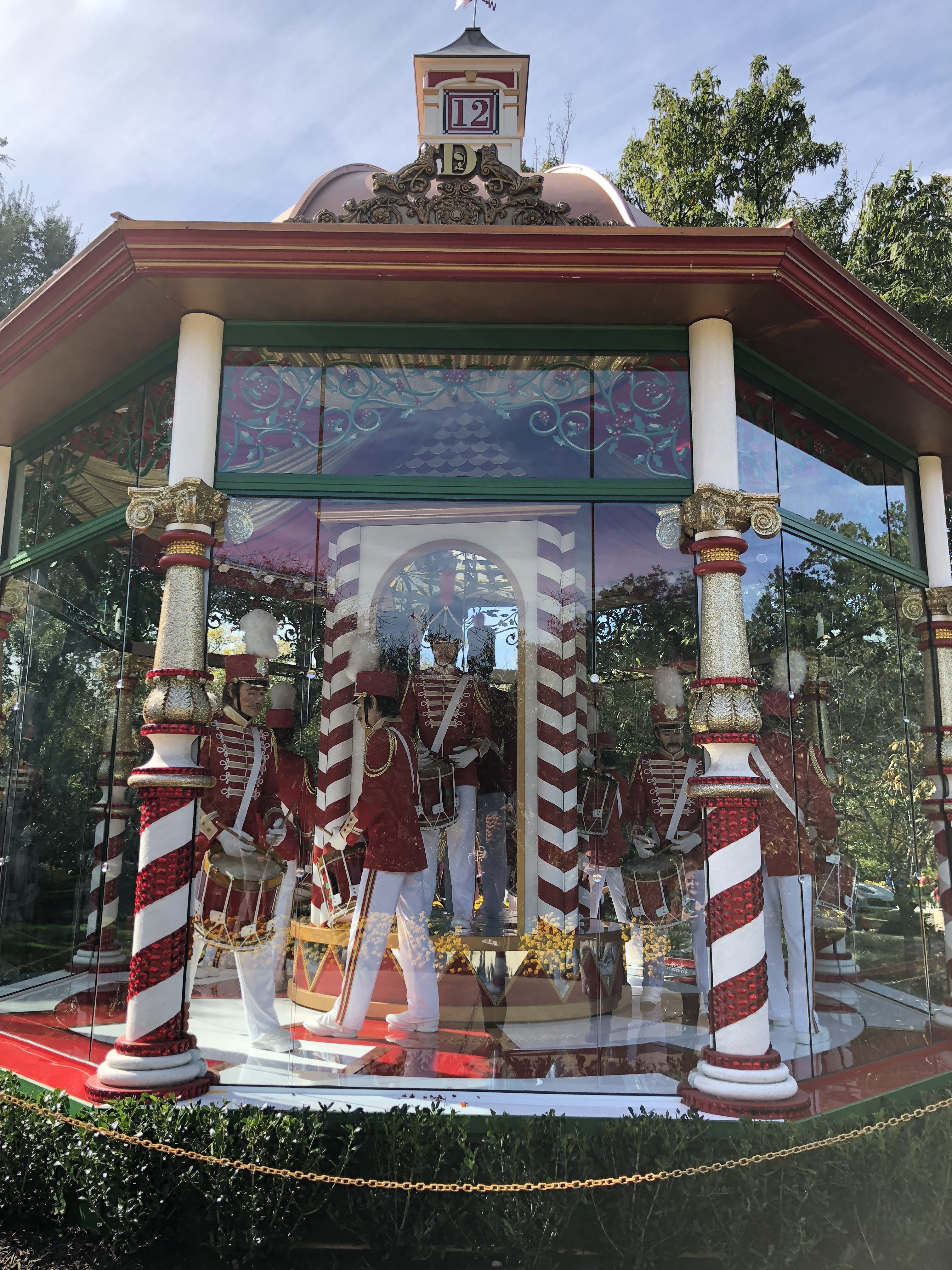 Whether you're looking for a outing to get into the Christmas spirit or a chance to spend time with your family, the 
Dallas Arboretum and Botanical Garden'
s Holiday at the Arboretum has something to enjoy for everyone. Every day until December 31, there is something to see! Walk around the gardens to see The 12 Days of Christmas, or attend a seasonal programming at A Tasteful Place. Get out of the cold and walk around the DeGolyer house to see both history and holiday. For a fun holiday experience, Holiday at the Arboretum is a one stop fits all!
The most spectacular event to see in the gardens is The 12 Days of Christmas. 12 Different Victorian- style gazebos feature a different scene, accompanied by holiday music, and a carousel of the scene of that day. Visit each day's gazebo around the gardens, and stay for a minute to watch the scene play as you hear classics of holiday carols.
At night, the Arboretum turns on 500,000 lights to turn into a winter wonderland! The 12 Days of Christmas, the DeGolyer House, and the 30-foot-tall Christmas tree in the center of the Arboretum take on a different sight! If you are looking to get into the holiday spirit, this is sure to get you there!
The exhibition in the historic DeGolyer House returns with "The Artistry of the Nativity," with 500 crèches from over 50 countries representing different cultures from all over the world. In addition to the Ray Harrington and the Joe Christian collections, which the Arboretum owns, the private collections of Joyce and Larry Lacerte, Lydia and Dan Novakov, and a life-size crèche from Mary and Mike Terry, will also be on display. These crèches have never been open to the public before, so this is the perfect opportunity to see unique and beautiful pieces on display. Each of the 500 crèches are made out of unique materials including cork, Waterford crystal, horns, seeds, corn husk, glass, adobe, paper-mache, wood and coconut shells. Also in every room of the DeGolyer House will be elaborate holiday décor to accompany the exhibition. To see the house you can go during garden daytime hours or on Wednesday nights!
Here is a list of special dates and discount tips. This list has something for everyone!
BOGO Wednesdays
Every Wednesday through December 26
9 a.m.-5 p.m.
Buy one, get one admission every Wednesday.
Plant Lab: Let It Snow (Appropriate for ages 6 and up)
Through December 23, 11 a.m., 1 p.m., and 3 p.m.
Exploration Center
Let it snow, let it snow, let it snow… in the Plant Lab this December! Explore the wonders of melting, snowflakes, and endothermic reactions.
Daily and Seasonal Programming for A Tasteful Place: 
Seasonal Tastings
Every day, 10 a.m.-4 p.m.
Try three free different samples featuring a hero vegetable, fruit or herb from the garden.
INTERACTIVE COOKING: Young Chef's Class
Presented by Young Chefs Academy of Frisco
December 22, 1-2:30 p.m., Adults $15, Children $10
Create a fun, memorable afternoon in an interactive adult/child cooking class making homemade gifts for the holiday kitchen.
INTERACTIVE COOKING: Over the Top Tapas Couples Class
Presented by Gil's Elegant Catering
December 29, 3-6 p.m., $150
"Over The Top" Tapas is an exciting class that teaches students to create flavorful tapas. Learn to extract and impact the flavors of Spanish cuisine through hands on learning.
Visits with Santa
Wednesday evenings, 6-9 p.m., Through December 19
Saturday & Sunday, 12-4 p.m., Through December 24
Santa is back in the garden this year in the perfect holiday setting–Crape Myrtle Allee, resplendent with twinkling lights. Share Christmas wishes with the jolly old man and take a photo to commemorate the occasion. The Dallas Arboretum Volunteer Advisory Board will be taking pictures of the memorable moments for donations, and guests are welcome to take the photo home.
Santa Letter Writing
Wednesday-Sunday evenings, 6-9 p.m.
Through December 30
Ann Stuart Courtyard
Calling all good children on Santa's nice list. Write Santa a letter to tell him wishes for this holiday season. Drop off the letter in the beautifully crafted mailbox, and it will make its way to the North Pole.
The 12 Days of Christmas
Daily, 9 a.m.-5 p.m.
Through December 31
Adult: $15, Seniors (65 or older): $12, Children (2-12 years): $10
Enjoy elaborately decorated Victorian-style gazebos on display every day during the holiday festival.
The 12 Days of Christmas at Night featuring 500,000 lights
Wednesday-Sunday, 6-9 p.m.
Through December 30
Adults: $20, Seniors (65 or older): $15 Children (2-12 years): $10
The garden will be open late five nights a week for a special, lighted night-time experience.
In special celebration, Restaurant DeGolyer will be open for reservation-only dinners on November 28, December 5, 12, 19, 20, 21, 27 & 28 at 7 p.m.
The DeGolyer House "The Artistry of the Nativity"
Daily, 10 a.m.-4 p.m., Through December 31
Wednesday evenings 6-9 p.m., Through December 30
Visit the historic DeGolyer House this holiday season to view magnificent nativity collections on public display for the first time throughout the elaborately decorated house.
The garden will reopen for extended hours Wednesday through Sunday from 6-9 p.m.