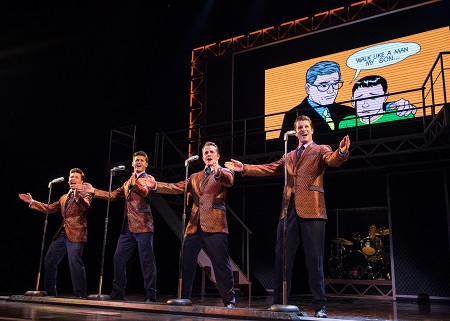 Just because its music your parents listened to, don't dismiss the one-week-only run of Jersey Boys at the AT&T Performing Arts Center.  The nationally touring company creates a high-energy experience for the whole audience, literally from the opening notes of the show through the curtain call.
Jersey Boys, the Tony-award winning show created by Bob Gaudio, details the history and formation of Frankie Valli and the Four Seasons, using the prolific songbook of the group to create a sense of history and place throughout the show.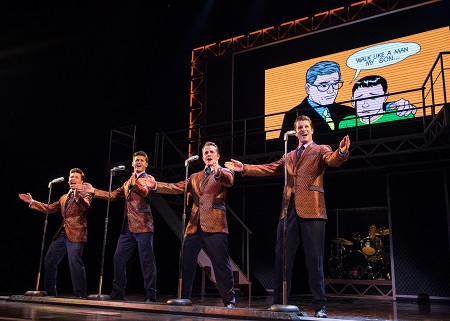 While the featured songs span the 1960s and early 1970s, the energy and music seem timeless, even if you weren't born when the numbers were originally released.  The show features an amazing 35 musical numbers which showcase every era of the band's evolution. Jonny Wexler holds his own in the difficult role of Frankie Valli, and his voice actually appeared to strengthen as the show went on. Corey Greenan, as Tommy DeVito, brings a real intensity to the tough streets from which the majority of this famed band hale.  The entire ensemble makes the transitions through the years feel very natural.
The set for Jersey Boys is very simple, which really puts the focus on the performers as they sing their way through two hours of strong harmonies and choreographed dance moves.  The easy interspersing of classic Four Seasons tunes kept the crowd engaged, clapping and even cheering in portions.
To steal shamelessly from a Four Seasons' tune, 'My Eyes Adored You," and so did my ears!  This show certainly doesn't disappoint.  If you can't make the limited run at Dallas' Winspear Opera House, this touring cast travels from here to San Jose, Boise and Salt Lake City.
Jersey Boys will be at the AT&T Performing Arts Center through Sunday, May 27. Get tickets here.
Disclaimer: I was invited to the opening night on a media ticket, and all opinions are my own. Photos courtesy of the AT&T Performing Arts Center.