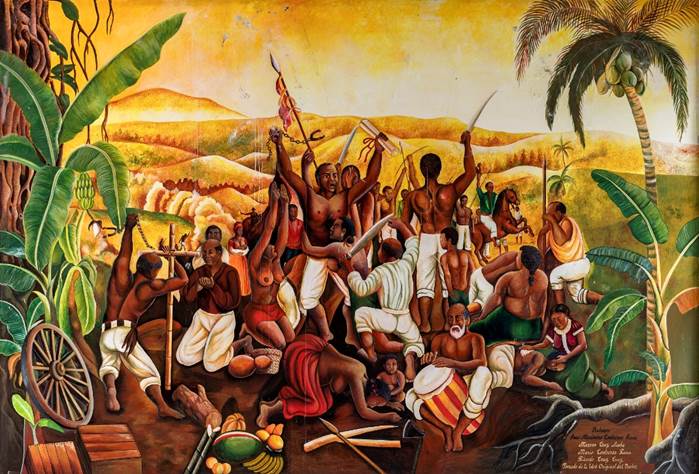 A new exhibit coming to the African American Museum in Dallas will share a new perspective on the Atlantic Slave Trade and the African American perspective. Opening Saturday (April 9), this educational exhibit highlights the experiences of AfroMexicans across the regions of Coahuila, the coast of Veracruz and Costa Chica in Guerrero and Oaxaca.
Titled, Yanga: Path to Freedom in the America, this new exhibition was curated by Jorge Baldor and Zameer Jiwani of Latino Arts Project and reframes the conversation about freedom and the journeys taken by Africans through a collaborative and interactive presentation celebrating AfroMexican art and history.
Visitors to the museum will explore the largely unknown story of Gaspar Yanga, one of the first liberators in the Americas. A prince from an African royal family in Gabon, Yanga, was taken as an enslaved person in 1570 to Veracruz, Mexico, which was then part of New Spain. He escaped and led a group of enslaved people to revolt and create their own colony, called San Lorenzo de los Negros, and later renamed Yanga. The formerly enslaved people were able to defeat the Spaniards and negotiated with the King of Spain to build one of the first freed slave communities in the Americas.
This exhibit also highlights the often-neglected story of the more than 5,000 enslaved people who escaped predominantly from Texas to Mexico in what is known as the Southern Underground Railroad, which evolved after Mexico banned the practice of slavery in 1829. A group founded the town of Nacimiento de los Negros in the bordering Mexican state of Coahuila, where their direct descendants still live today.
As a follow up to its ground-breaking AfroMexican art, music and dance presentation at the Meyerson Symphony Center in February 2020, Latino Arts Project continues to support Southern Mexico's Costa Chica area and continues to highlight its distinctive African experience. Founded by escaped enslaved people, the community there has a vibrant arts community, with works that are rarely seen outside of that region. Folk Art and traditional dances from Costa Chica show the passionate expressions of the enslaved people's unique freedom struggle.
The 1,500 square foot exhibit will feature 40 to 50 works at a time, with new works rotating into the display throughout its seven-month run. Additionally, interactive touchscreen exhibits will bring to life the continuing struggle for African American equity with quotes from local, national and international leaders and a display of historical documents.
This historical exhibit will include commissioned and collected Folk Art, interactive visual displays, sounds of African drums and videos of festivals and dances. A biweekly Art Talk speaker series aims to engage the community with local, national and international artists and thought leaders presenting in diverse venues throughout the city.
Yanga: Journeys to Freedom will feature the works of global artists, including:
Mario Guzman Olivares: An acclaimed revolutionary artist, Guzman has been one of the instructors teaching young artists in the Costa Chica area. Included in Guzman's work at the exhibit is a nine-foot-wide canvas commissioned by the Latino Arts Project to reflect a rarely seen nocturnal scene featuring Yanga.
Baltazar Castellano Melo: The son of a Black father and Mixtec mother, Balta, as he is often called, struggled to see himself in the art and politics of Mexico. His work to seek visibility for the Afro-Mexican experience not only has influenced art but was a key part of the work to modernize the Mexican census process to include Black heritage in the count.
Kimathi Donkor: London-based Donkor is of Ghanaian, Anglo-Jewish and Jamaican descent.  His contemporary style includes symbolism and sometimes incorporates modern-day objects to expose the long-lasting effects of the African diaspora stories.   His works are part of numerous museum and international private collections. Kimathi Donkor's work re-imagines mythic, legendary and domestic encounters across Africa and its global diasporas, principally in painting, but also through drawing, assemblage and collage.
Jose Cruz Sanchez: This sixth-generation carver from Costa Chica works predominantly by carving in jicama. His works will be displayed and available for sale at the exhibit.
Beyond its extraordinary partnership with the African American Museum, the Latino Arts Project has also secured collaborations with other North Texas arts groups as a part of the Yanga experience. On Sunday, June 19, Dallas' Cara Mía Theatre will present a newly written play called, Yanga. During Hispanic Heritage Month, the Dallas Symphony Orchestra will present a symphony with a choral group based on Yanga's inspiring journey. Additional cooperative programming is planned with Anita N. Martinez Ballet Folklorico and Bandan Koro African Drum and Dance Ensemble.
The exhibit will run through the end of October 2022.