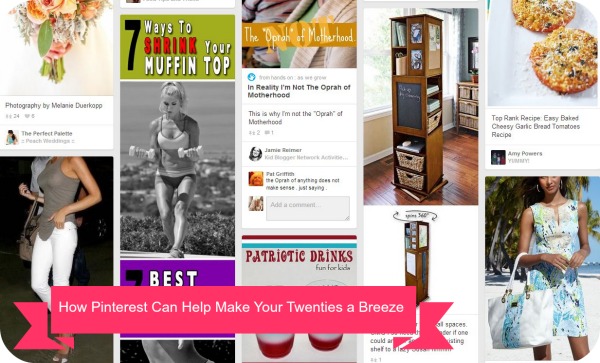 This guest post was written by Ali, leave her your thoughts in the comments! See her other genpink posts here.
Let's face it, your twenties can be really hard. Financial instability, crappy jobs and simply feeling lost can really take a toll on your happiness and life. Don't let anyone fool you, the quarter-life crisis is real, but you can ease the blow thanks to a great technological resource.
Pinterest is easily one of the best tools for struggling twenty-somethings. You can stumble across an infinite amount of useful information that will help you to learn something new, pick up a new hobby, or simply to unwind.
Your twenties don't have to be as hard as they seem, and browsing through these categories just might help you make your twenties some of the best years of your life.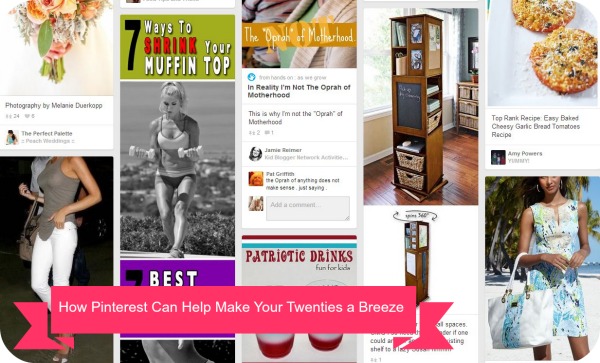 Health and Fitness
We all want to look our best, but the benefits of exercise go beyond just looking good. Regular physical activity also keeps your mood elevated and your health in tip top shape, so utilize these years to get into the best shape of your life.
Pinterest has tons of workouts and healthy food ideas. Simply browse through and discover what works for you!
DIY and Crafts
Just because you don't have a lot of money doesn't meant that you have to be "cheap." The DIY section is an awesome resource for just about any project you can think of. Want to make a chandelier out of mason jars or make your own Christmas gifts? There are tons of tutorials here to break it all down for you. Pinterest is also a great place to find DIY: Gift Ideas.
Gardening
A lot of young women want to garden, but sometimes just aren't sure where to begin. Fear not! Gardening doesn't have to be overwhelming because Pinterest users love to share their ideas and tips on getting the most out of your flower, herb and vegetable gardens. You could be growing your own food in no time!
Added bonus – gardening is exercise, too.
Women's Fashion
Need an outfit idea for a big event or want to simply change up your wardrobe? The fashion category is the perfect tool to get this job done. It is especially helpful for those who have trouble visualizing an ensemble. Plus, there are usually links to where you can get the pieces, too! Here's some of our Fashion & Beauty picks.
Hair and Beauty
If you don't want to spend a lot of money to look good, then this is where you need to be. There are numerous at home beauty treatment ideas and tips for making your beauty routine more natural, which is great for your health, as well.
Travel
You are in your twenties, so now is the time to be "selfish" and see the world. Traveling is good for you, both mentally and physically. It helps to expand your knowledge and really puts things into perspective for you, which is important at this time in your life.
Not sure where to go? The travel section will help you discover destinations you make have never thought of before.
Film, Music and Books
Keeping your mind healthy is one of the best ways to make your twenties a bit easier. Pinterest can help you to find your next essential read or inspiring film that will change the way you see the world, making your problems a little easier to deal with.
Food and Drink
Whether you are cooking for yourself or a big dinner party, you can find a lot of great recipes for your next meal. Dinner parties are usually part of life for a twenty-something and there are savory, healthy, sugary and even vegan food ideas on Pinterest that will make you into a great chef in no time.
Follow Elysa // genpink's board Drink Up on Pinterest.
Quotes
While everything on Pinterest is pretty awesome, the quotes section is probably the best thing for everyone in their twenties. When you are feeling down or stressed, come here to feel inspired. Apply what you find helpful into your everyday life and you will surely breeze through this period of your life, and do so successfully.
Follow Elysa // genpink's board Words to Live By on Pinterest.