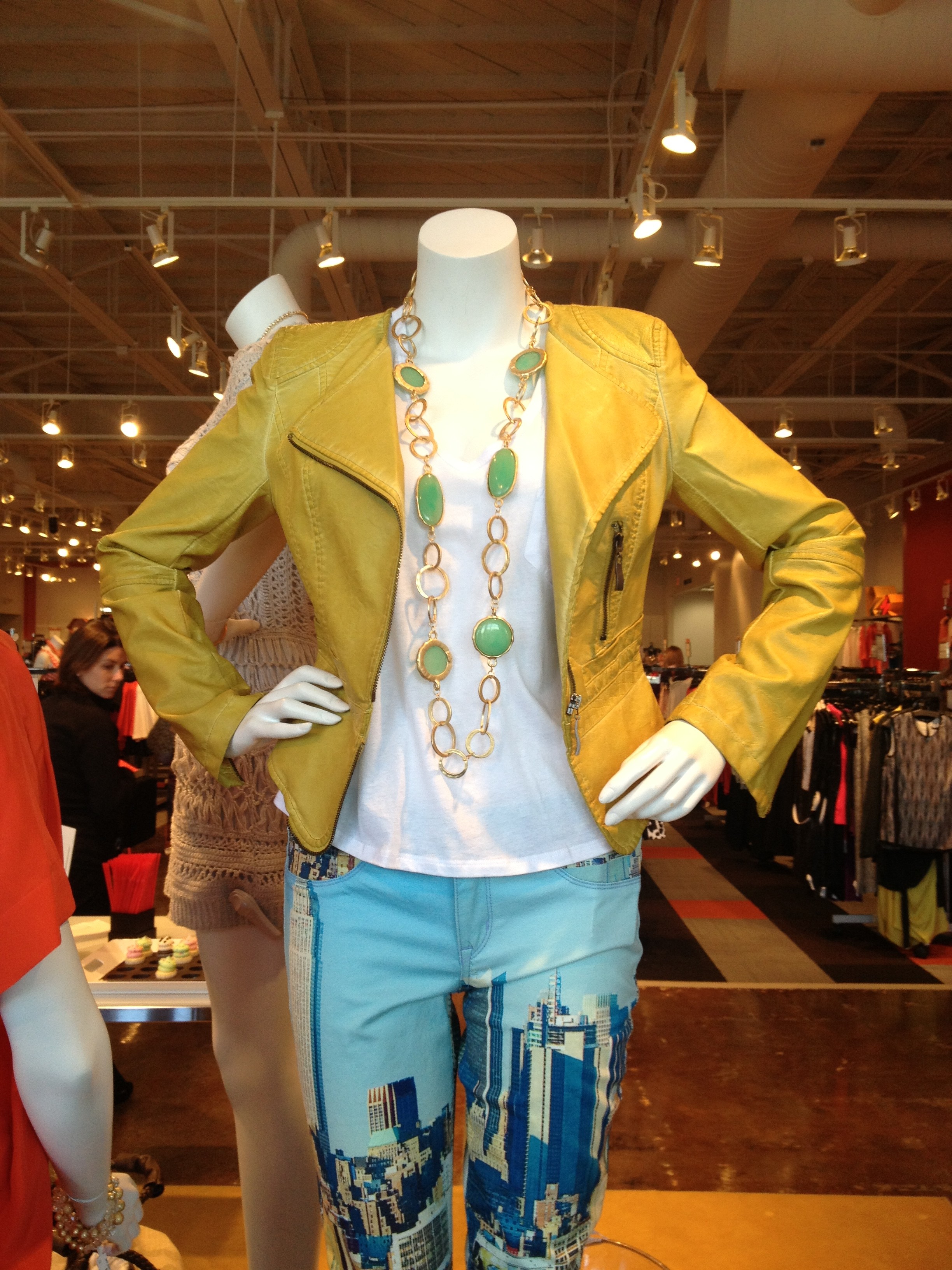 Cynthia Smoot, founder of Oh So Cynthia and local fashionista, hosted the Spring Fashion Presentation at Neiman Marcus' Last Call Studio earlier this week. My friends and I stopped by the shop to chat with Cynthia about her spring fashion selections and to meet other girls and guys crazed about fashion.
While sipping on drinks and enjoying some snacks, my friends and I browsed the store for a little shopping. We used an exclusive event coupon for 30% discount off our purchases, and I ended up purchasing an adorable sleeveless, pink top and some pretty stationery for my office.
After shopping, I met back up with Cynthia who explained her fashion picks for the spring season. She decorated three mannequins with her favorite clothes, shoes and accessories found at Last Call Studio. Did you know the color of the year is emerald green? :)
Accessories
Bracelets- Stacking bracelets along your arm for an "arm party", as Cynthia says, created a fun look for any occasion.
Necklaces- Chunky necklaces will continue being in fashion. This trend creates a big statement on any outfit.
Shoes- We'll be seeing a lot of the ombre effect in heels this season. This sophisticated tie-dye look consists of a light-to-dark pattern.
The 60's Throwback
Dresses, shirts and necklaces in the crochet patterns, as well as stylish leather jackets will make a comeback this year in a shopping store near you. This look highlights the 60's area, which always presents a classy look.
Printed Denim
Denim was hot last year, and the printed look will continue the denim trend in 2013. Fun fact: This is Cynthia's favorite new trend! You can simply add some casual neon flip flops or heels with a pair of printed denim pants and a top. There are definitely multiple occasions for a pair of these pants.
Bright Colors
The bright colors will continue to be worn this year by many ladies. A crochet-style necklace is featured below.