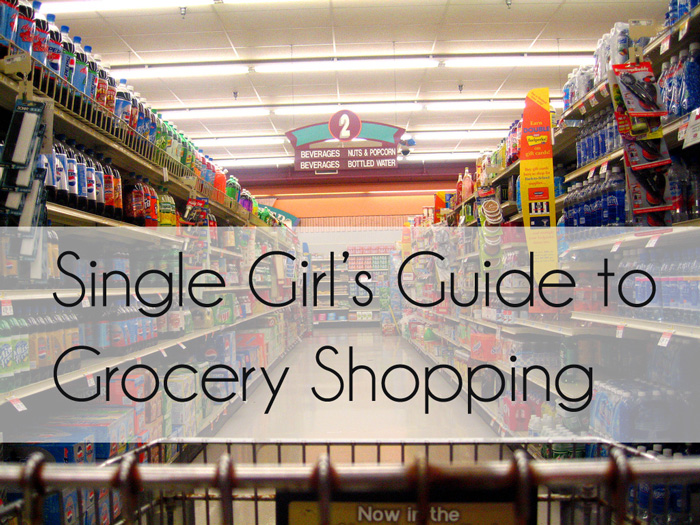 One of my favorite personal finance blogs, Get Rich Slowly, posted today Buying Food: Grocery Shopping Tips from 1950 which includes a video (yes from the 50s) and the subsequent grocery shopping tips "we" should get from this video. When I read most grocery shopping tips I get pretty annoyed – most of these are made for families with 2.5 children. You see, I am single – I eat at home (or take my lunch to work) about 60% of the time and the other times I go out with coworkers or friends. My grocery shopping habits are much different than a household of 5.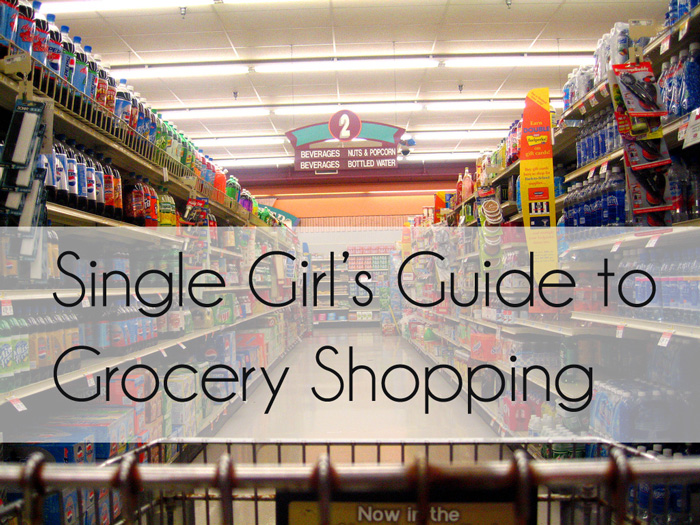 Almost every grocery shopping how-to I've seen includes buy in bulk. That is about the worst money saving advice for me:
Since I'll be the only one eating this item – I'd be stuck eating the same thing day after day to avoid it going bad.
I live in a small place, therefore I have limited storage place.
I live on the 4th floor and I haul my own groceries up the stairs.
So, I decided to do a little googleage and find some grocery shopping tips for one. I'll tell ya it definitely took some digging, the first few resources I found were almost as annoying as the buy in bulk idea. In my searching I also found The Little Black Apron: A Single Girl's Guide to Cooking with Style and Grace
 – perhaps I should check it out.
Here is the single girls guide to grocery shopping:
Plan ahead: this grocery tip is universal but a definite money saver, plan your week and write your grocery list before you go to the store to avoid impulse buys. I'm personally not great at grocery lists, so my compromise is to decide how many lunches and how many dinners I will need for that week so I don't end up with too much food. If you like paper lists The Ultimate Grocery Shopping List is a free pdf that's a great resource (note: there is also a Vegetarian version).
The freezer is your friend: if you think your fruit or bread may go bad before you eat it, throw it in the freezer to use later. I just learned bread only takes 1 hour to thaw. Frozen fruit is great to use in smoothies or to eat as a snack. I cut up and freeze bananas all the time to throw in cereal or smoothies. I've never been a fan of freezing leftover food, because I usually forget about it. But if making extra food and freezing for later works for you it's a good money saver. (update: I just got this cookbook in Kindle format to have more freezer friendly recipes — Fix, Freeze, Feast: The Delicious, Money-Saving Way to Feed Your Family)
Choose the right frozen entrees: ready-made entrees can be an easy option but be sure to choose wisely so you're not eating junk food disguised as health food. WebMD has some good frozen entree choices. An advantage I have found of frozen meals is usually they cost the same whether you buy 1 or 4, so I can try a new kind without being stuck with multiples in the event I don't like it. These are easy take to work lunches for me (although not necessarily the most economic).
Search high and low: the most expensive, brand-name items are typically located at eye level to make them more available to shoppers. To find the best bargains you'll have to literally search high and low.
Buy generic: Generic and store-brand products are often processed at the same plants as name brand products, but they are much cheaper because they aren't advertised. A significant portion of the price you pay for a name brand product is to cover the high cost of advertising it in the various media.
Think about your eating habits at work: avoid vending machines and bring your own snacks/drinks to work. You pay significantly less for the candy bars and drinks you buy at the grocery store than from a vending machine.
Coupons: there are numerous sources for coupons if you're the coupon collecting type. There are soooo many blogs that share couponing tips but I wanted to read a book to get the big picture before getting into the tactics. I read this one over the Summer, it's less than $5 in e-book format (Pick Another Checkout Lane, Honey: Learn Coupon Strategies to Save 000s at the Grocery Store000s at the Grocery Store)
Additional Grocery Saving Resources:
Do you have any grocery store suggestions to share?